Speak to anyone who's been to Phu Quoc – the 'pearl island' in the south of Vietnam – and they'll smile in wistful reverie. There's something so captivating about the tropical destination, which leaves visitors with good memories that last a lifetime. No doubt, the white-sand beaches, relaxed way of life and lush forests are among the main reasons for this indelible impression. Perhaps they've been left with a delicious lingering taste from a delicacy sampled at the buzzing night market. Or they'll simply never forget the service they received at one of the many luxury resorts that've changed the face of this once-unknown retreat….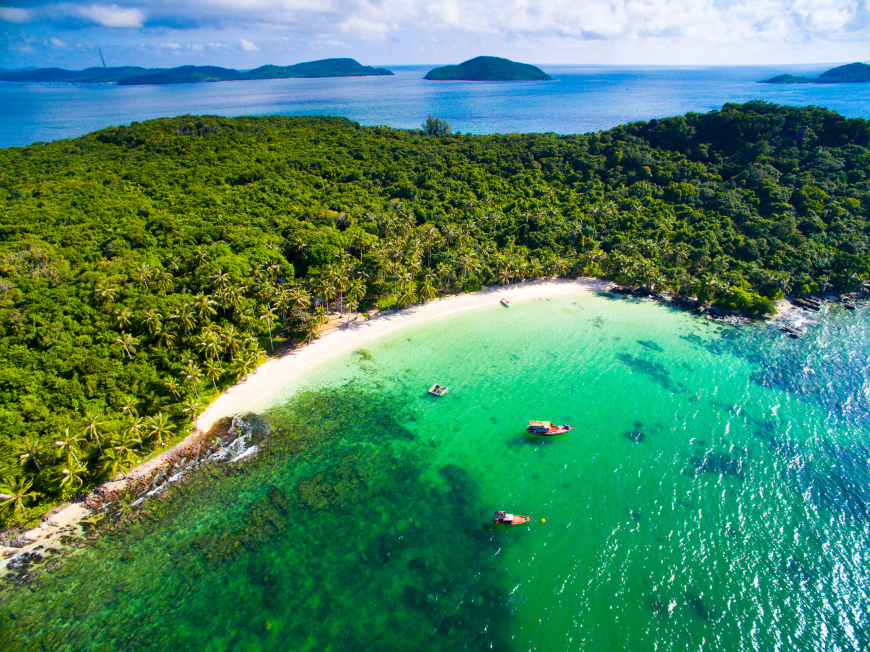 Why not find out for yourself on a short stay on Phu Quoc?
Only got three days? These are the suggested itineraries to ensure it's your most magical and memorable summer vacation yet…
---
Day 1: Explore the island's best beaches
Since the island paradise is most known for its beautiful beaches, visitors often ask: "But which one is THE BEST?" Check out some of the top contenders on your first day to decide…
Go swimming at picturesque Sao Beach
For quality beach time away from the crowds, head south to Sao Beach (Bãi Tắm Sao) near An Thoi Town, about 25km from Phu Quoc's centre. Stretching over 7 km of white-sand and palm-lined shore, Sao Beach is truly a highlight. Entrance and parking are free. The natural shade provided from the trees and entrances created by locals give access to the surrounding pristine forests for some trekking. Visitors often spend the whole day here − swimming, snorkeling, kayaking, kite surfing, and fishing.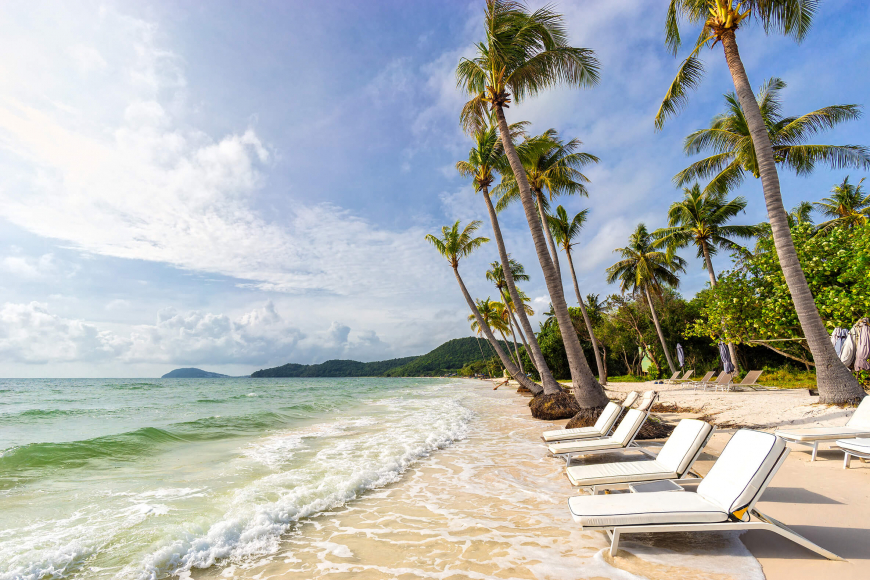 Enjoy the freshest catch of the day at Rach Vem fishing village
Another awesome spot is 'starfish beach' in Rach Vem fishing village, about 20km north of Duong Dong town. Photographers love this destination, with its calm, crystal-clear waters, floating wooden bridges, stilt raft houses over the sea, and countless red starfish (which visitors are advised not to touch or disturb). As it's also surrounded by forest, this is a truly scenic, peaceful spot for visitors to relax. By now, you would've worked up an appetite. Take your pick from the plentiful seafood caught by the fishermen, which will be cooked on the spot for you to enjoy while gazing at the beautiful blue views.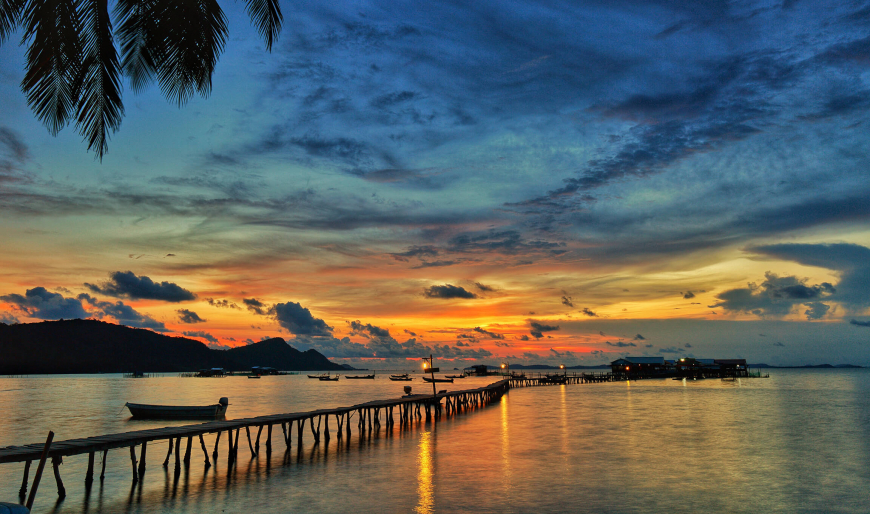 Relish the sublime beauty of Vietnam's southernmost islands
The best way to explore the picture-perfect smaller islands in the south is on an island-hopping tour. Your boat will take you to heavenly Mong Tay Island, where you can laze on large swaths of soft sand or relax on a lounger under one of the many shady palm trees. Snorkel or dive at Gam Ghi Island, which boasts one of the best coral reefs in Vietnam. Look out for sea creatures such as barracudas and giant pufferfish. You can snorkel some more at May Rut island, and try your hand at fishing at Thom Island. To keep your appetite satisfied, your guides will whip up a generous lunch for you to enjoy on-board. In the evening, once your tour is finished, sit back and enjoy a refreshing beverage at dusk at one of the island's popular beach bars, such as Sunset Sanato, Ocsen, or Sunset Beach.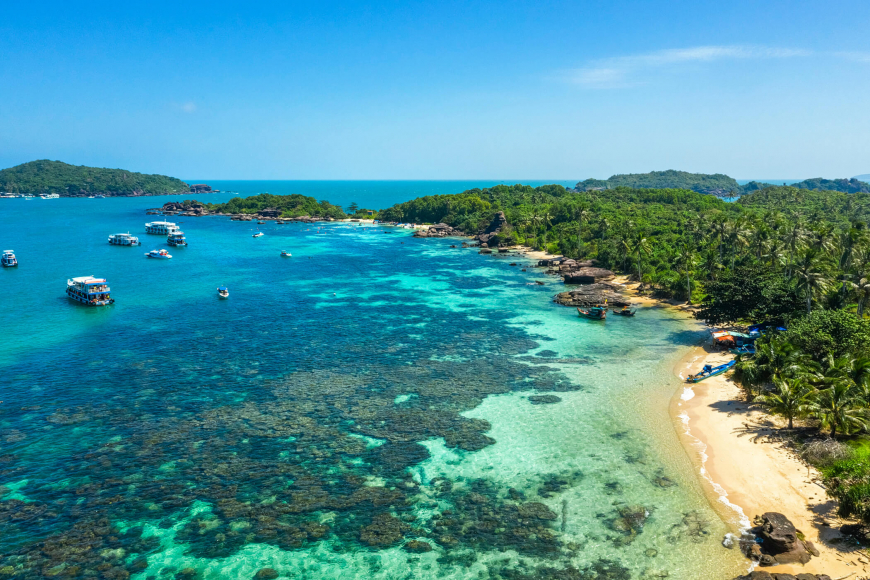 TOP TIP:
From now until 31 December 2022, you can get 5% off (up to 300K VND) for tour bookings valued at a minimum of 900K VND. Simply apply the code DATTOUR when booking.
---
Day 2: Enjoy the island's one-of-a-kind activities
Discover the secrets behind the island's famous specialties – pepper and fish sauce
For over 200 years, Phu Quoc islanders have produced delicious fish sauce. Today, the island is the country's leading producer of this sauce – a mainstay in Vietnamese cooking. For a fascinating excursion, visit one of the 'barrel houses' to see how the sauce is made according to a time-honoured tradition involving anchovies, salt and giant wooden barrels. On your way out, pick up some bottles of the sauce as souvenirs for people back home. Another pantry item the island is known for is its particularly pungent and spicy pepper. Tour one of the plantations to learn how over 1,000 tons of pepper are produced here annually.
Go diving and snorkeling
Owing to the island's clear water, diving and snorkeling are among the most popular things to do on Phu Quoc. There are several options for diving, for both beginners and experienced divers alike.
Snorkeling is possible during day tours. You can do a boat tour to May Rut Island, Mong Tay Island and Dam Ngang Island, where you can snorkel among a variety of fish and coral. (Four Islands Excursion in South Phu Quoc - Day Tour - Exclusive Deal by Traveloka Xperience)
Be awed by the views from the cable car to Hon Thom Island
Phu Quoc boasts a Guinness World Record for the longest non-stop three-rope cable car, which is nearly 8km long. The cable car linking An Thoi Town and Hon Thom Island has got to be seen – and experienced − to be believed. Soar high above the sea and enjoy 360-degree views of the An Thoi Archipelago, jungle-covered mountains, stunning coral reefs, colourful fishing boats and beautiful sandy bays.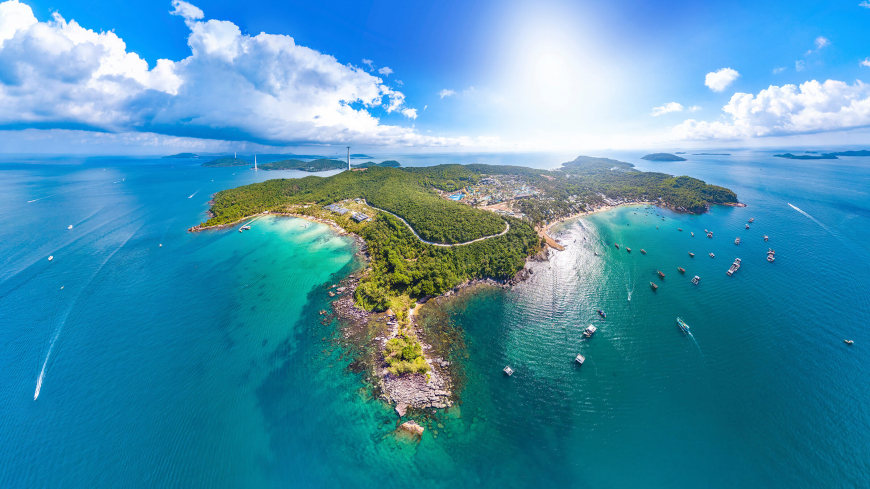 Immerse yourself in the hustle and bustle of Phu Quoc's Night Market
On Bach Dang Street, in the heart of Duong Dong Town, you'll find the Phu Quoc Night Market. During the evening the street is strictly for pedestrians only to browse the 50-plus stalls selling different products, such as accessories and souvenirs, or serving up fresh seafood and other local delicacies. If street food is your thing, you definitely wouldn't want to miss this market. Afterwards, stroll along the promenade to see the tour boats and locals out enjoying the fresh evening air.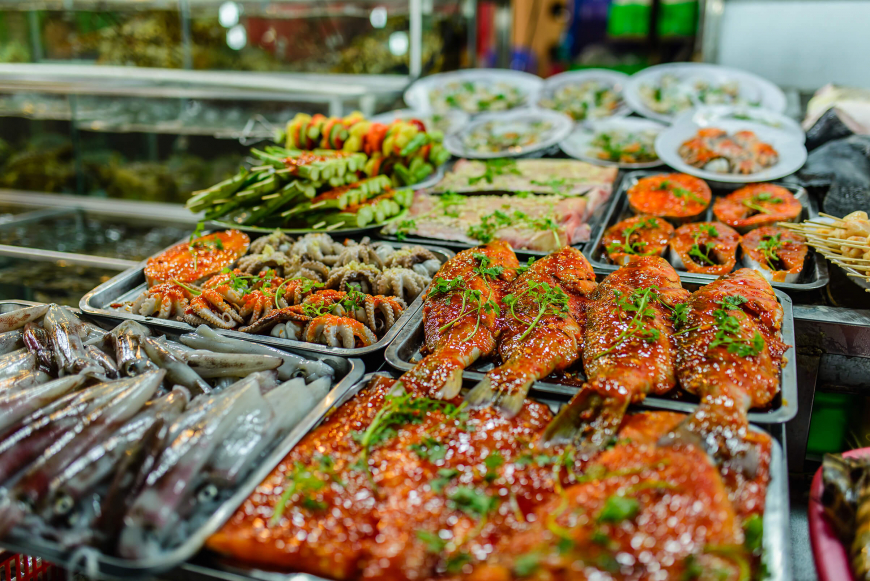 ---
Day 3: Enjoy all-in-one tourism destinations at leading theme parks
At 55 hectares in size, VinWonders Phu Quoc − a theme park located in the Vinpearl Phu Quoc complex – is one of the largest theme parks in Asia. It has over 100 games and shows, so you'd need more than a few days to see them all. If you're short on time, prioritize visiting the park's Vinpearl Safari Phu Quoc. The animals in this world-class conservation park are free-roaming, offering a unique safari experience in the heart of Southeast Asia. Have fun seeing which of over 3000 animals and 150 species you can spot, including lions, tigers, zebras, rhino and giraffe.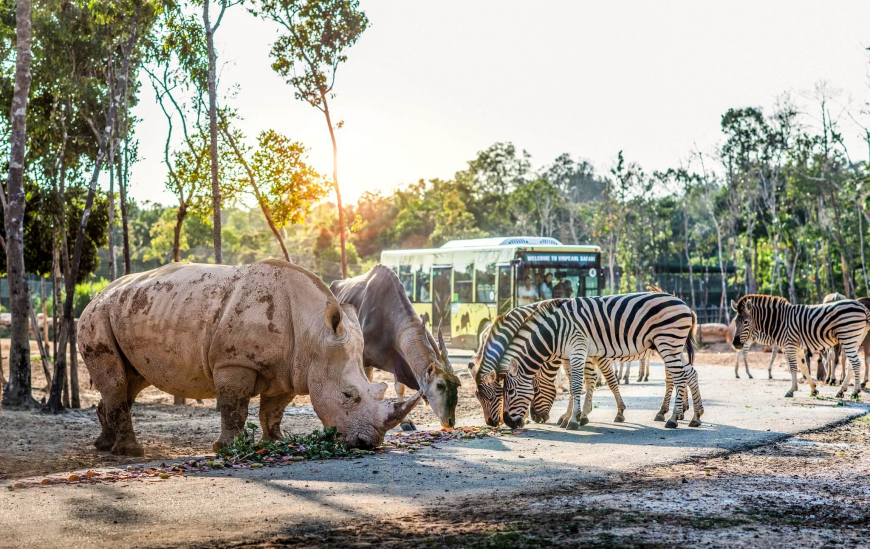 Source: Vinpearl Safari Phu Quoc
If you can't get enough of the water, you might want to visit the 'aquatopia' that is located in Sun World Phu Quoc. In addition to the theme park's seaside restaurants and activities, such as kayaking, scuba diving and jet-skiing, there's a water park with a host of fun slides guaranteed to keep kids happy all day. The complex is based in Hon Thom's nature park, so there's stunning fresh air and island scenery all around.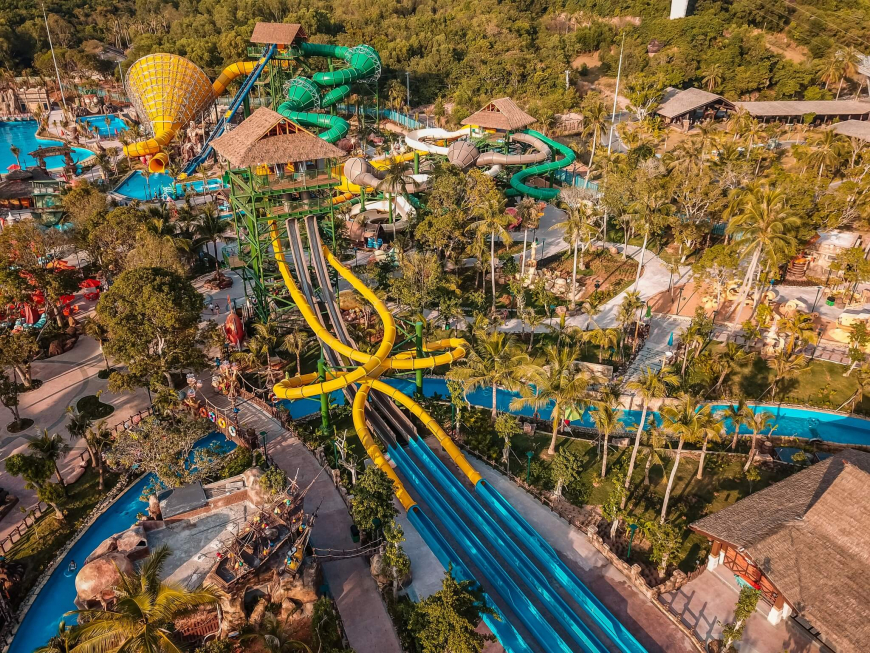 Source: Sun World Phu Quoc
TOP TIP:
From now until 31 December 2022, you can get 3% off (up to 100K VND) for Phu Quoc amusement park bookings (including Sun World and VinWonders) valued at a minimum of 1.2M VND. Simply apply the code CONGVIENGIAITRI when booking.
To make your holiday more memorable, you can opt to stay at one of these top accommodation establishments recommended by Traveloka: The Palmy Phu Quoc Resort & Spa, Sunset Beach Resort & Spa, and Mövenpick Resort Waverly Phu Quoc.
Traveloka − Southeast Asia's travel and lifestyle superapp
Discover and purchase a wide range of travel, local services, and financial services products with the Traveloka app.
Their comprehensive product portfolio includes transport booking services − such as flight, bus or train tickets, car rental, and airport transfers − as well as access to the largest accommodation inventory in Southeast Asia, including hotels, apartments, guest houses, homestays, resorts, and villas. Traveloka is the booking platform with the widest selection of accommodation and packages.

TOP TIP:
New to using Traveloka? From now until 31 December 2022, new customers can get 8% off (up to 150K VND) for bookings for tours and attractions valued at a minimum of 600K VND. Simply apply the code THAMQUANTOUR when booking.