Dalat is known by some as the city of a thousand flowers, by others as the city of love, and still others as the city of spring. It is a mountainous terrain surrounded by pine forest, where temperatures hover at around 20 degrees Celsius year-round.
Because of its mild climate, Dalat has become a hub of agriculture in Vietnam. While the south supplies much of the country's rice, Dalat supplies much of its fresh produce, as well as the iconic and high-octane coffee served at cafes on every corner.
Agricultural tourism isn't unheard of in Vietnam, though it isn't often identified as such. Hundreds of thousands of people travel from around the world every year to see the impossibly flat and green rice paddies of the Mekong Delta shimmering between rivers and streams. As many more visit the terraces of Ha Giang and Sapa in northern Vietnam to ride motorbikes around the hairpin turns of mountains transformed by autumn into golden steps of grain.
But agricultural tourism in Dalat is a world of its own, largely because agriculture in general is so different in Dalat. In the past decade, farming has been revolutionized. Biotechnology has won out over back-breaking labor. Farmers are using experimental systems to maximize their yields and minimize their work. As a result, food has become fresher and more abundant – and tourism has become more interesting.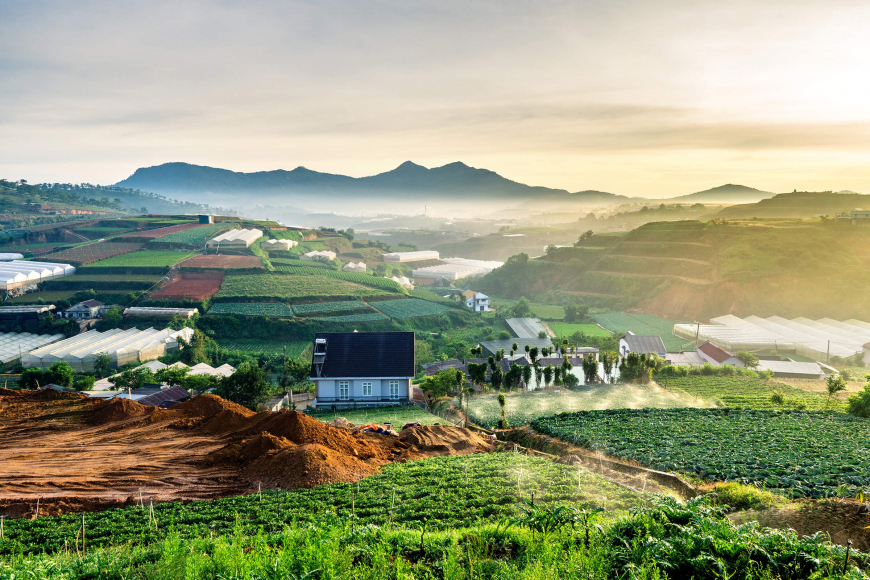 A decade ago, honeymooning couples and families would come to take selfies in fields of flowers or sip coffee in cafes overlooking mountains. Now that "agritourism" is on the rise, tourists come specifically to see and study Dalat's high-tech farming, both for educational and entertainment purposes.
Agritourism in Dalat allows visitors to experience culture, cuisine, and nature all in a single trip. Whether picking strawberries, sipping tea, tasting coffee, or planting hydroponic lettuce, here are some of its highlights.
Hydroponic Farming
Hydroponic farming is perhaps the most important agricultural development Dalat has seen in decades. Plants are cultivated inside of horizontal rails in nutrient-dense water instead of soil. These are typically shielded in greenhouses. This system completely eliminates the need for most typical fertilizers and pesticides, and allows for precise control over germination and harvest that is impossible with conventional agriculture.
Because hydroponic plants don't grow in the dirt, there's no end to how creative the systems can get. Hydroponic rails can be stacked on top of each other; plants can grow vertically along walls or hang from the ceiling.
Many of Vietnam's fruits and vegetables now come from Dalat's hydroponic greenhouses, and it's well worth visiting to see how this technology has totally transformed the produce of the nation.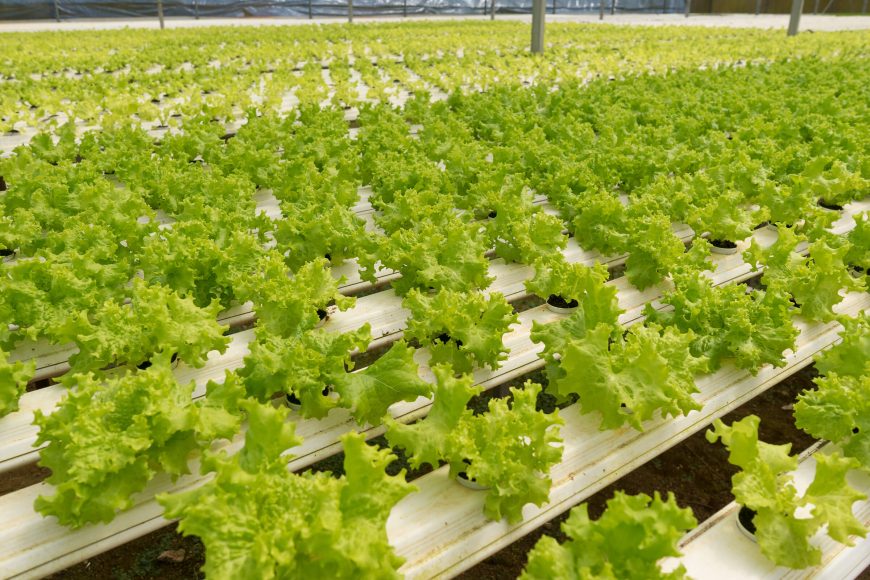 Hanging Strawberry Farms
Strawberries are one of the most interesting plants grown with hydroponic technologies. Conventional strawberries are ordinarily plagued by pests and therefore require chemical pesticides and physical labor interventions. In Dalat, strawberry farmers have begun growing strawberries from the ceiling. Pioneered by the Biofresh Company, the technique has taken off and been picked up by other farms.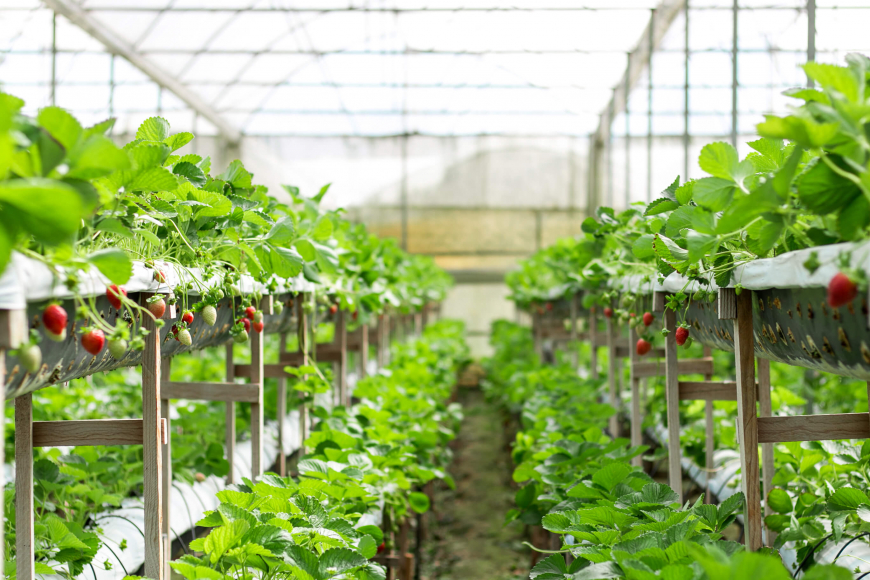 These hanging strawberry gardens have become a tourist destination. A 3,000 square meter greenhouse dripping with pink and green strawberry plants is a sight to behold. Because the farmers don't need to work as hard to grow strawberries, they can focus on the tourism industry and added-value products like jams and preserves.
Many of the farms offer educational tours, and some will even offer tiny baskets for picking the ripe and juicy fruits. Tourists in Dalat shouldn't miss the opportunity to indulge in strawberries, because they don't grow well anywhere else in the country.
Besides, Dalat has an integrated farm, growing many rare and precious agricultural products only in cold land. This farm is located in the area of ​​Van Thanh flower village with strawberries, giant pumpkins, pepino melons, black tomatoes and many other crops. Going from top to bottom of the valley, you will find areas of hydrangea, daisies, roses, scarlet sage, anthuriums, carnations, snapdragon…. Keep going further down you will see strange fruits that may only be grown in Dalat because of the cool and fresh climate.
City of A Thousand Flowers
Flowers are one of the primary domestic exports of Dalat, and have long been one of the city's key tourism draws. Thousands of varieties of flowers are grown in hundreds of farms and gardens, and the weather allows for Western as well as Eastern varieties.
Some farms, like Thai Phien FlowerVillage, split their focus between tourism and production. Thai Phien grows nearly a thousand different flower species in greenhouses as well as fields, stretching out in bursting color for 230 hectares – and this is just one farm among many.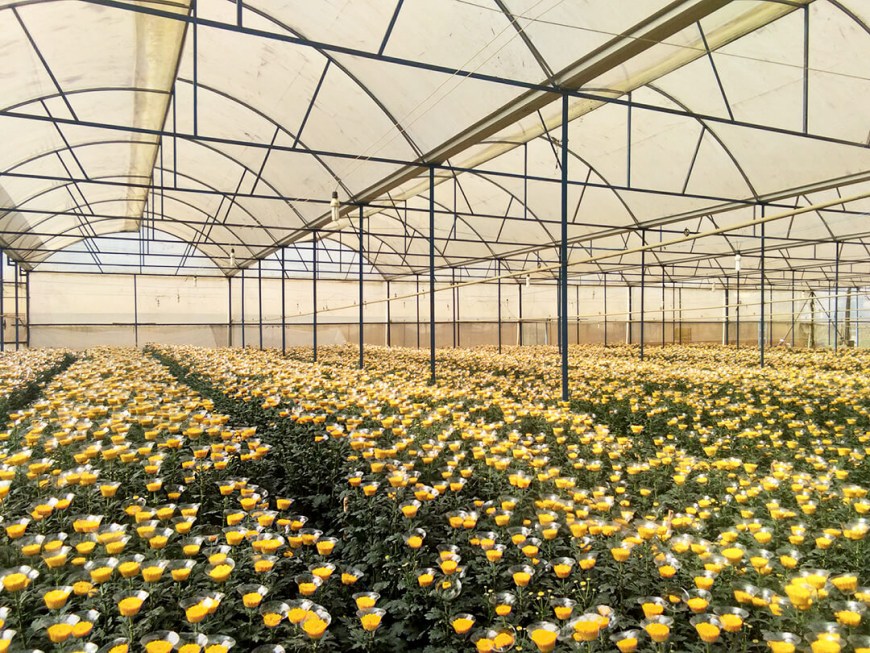 Source: Internet
Contrasting colors grow in infinitely long adjacent rows. Yellow sunflowers compete with blue hydrangeas and fiery red roses in a single field. Neither words nor photos can do justice to the kaleidoscopic effect, made all the more profound under a flat, clear blue sky.
Centuries of Tea
Dalat's greenhouses are for focused experiences, but its tea plantations are where the world opens outwards. Similar to the rice terraces of northern Vietnam, the tea fields here curve around hills in rows of fragrant bushes. And unlike the scientists in greenhouses with their modern technological ease, tea leaves are still picked by hand, by indigenous women in wide-brimmed sun hats and colorful skirts with distinct ethnic patterning.
A few hundred years ago, this land was put to work to supply the French with tea, everything exported overseas. Now, these farms are owned by Vietnamese families that supply the country and the world.
Wander down the dirt roads of Cau Dat Tea Hill towards the country's oldest tea factory, built by the French in 1927. Start the visit in the late afternoon so that the sun has a chance to gild the leaves and touch the sky with color. At the end of the tour, as the weather cools, sit for a hot cup of tea and watch golden hour drape itself over the greenery.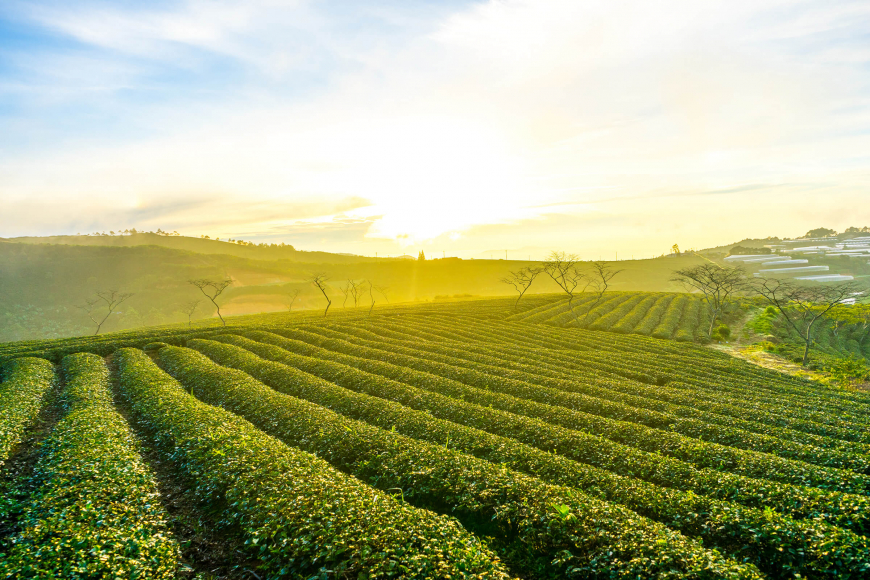 Vietnamese Coffee - Robusta and Arabica
Vietnam is the second largest coffee producer in the world, and most of the country's coffee is produced in the Central Highlands, including Dalat. What most people know as "Vietnamese coffee" is Robusta coffee – highly caffeinated, strong, and thick – but Vietnam also produces world-class Arabica coffee beans. This subtler, finer coffee bean has been sneaking its way into the country's specialty cafes over the past decade, and all of it is grown in Dalat or the surrounding highlands. It's the only region with the right climate for this delicate bean.
There are several coffee farms worth visiting in Dalat, growing both Robusta and Arabica beans. A tour to a farm will cover the whole process of coffee production. Start in the dense plantations to see how coffee fruits look on the trees. Most people are familiar with the bean in its dark brown and roasted state, and few people know that coffee actually comes from a fruit, which starts green and turns red when it's ripe.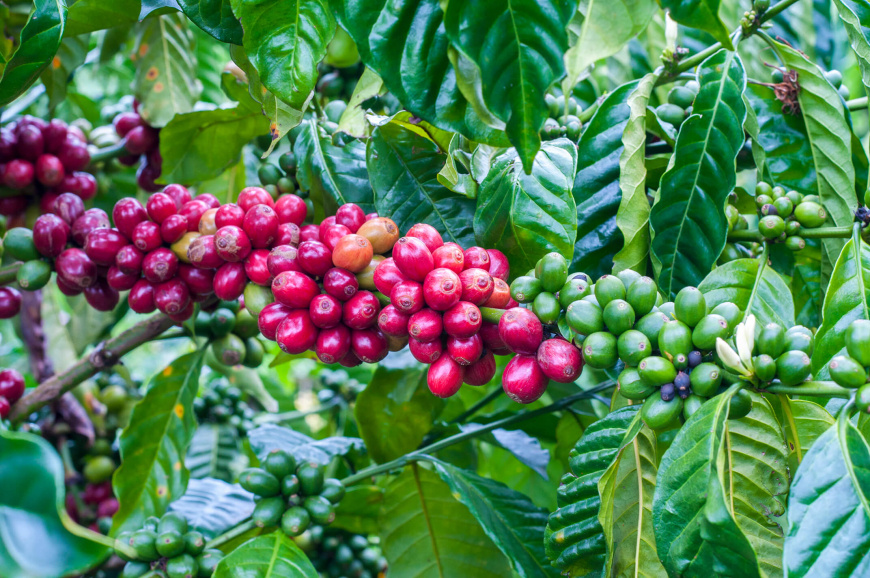 Many commercial plantations harvest coffee at any stage, scooping up unripe green beans to roast alongside plump red ones. Artisanal coffee is picked at its peak, each bean carefully chosen to be free of defects.
Follow the process to its completion, as the beans are removed from the fruits, fermented, dried, skinned, and finally roasted and brewed.
The final cup of coffee, enjoyed on a patio overlooking the plantation, after a half-day spent learning about its production, will inevitably taste completely different. This is the beauty of agrotourism in Dalat: all fruits are sweeter when the labor to produce them is fully understood.