Heading north during your holiday in Vietnam? You simply can't miss a trip to Ninh Binh As it's about 100km from Hanoi, it's perfect for a weekend stopover. And while it's nowhere near the sea, its many waterways are best explored on a unique boat tour.
---
A natural haven, rich in history
To be clear, when people refer to Ninh Binh the tourist destination, they really mean the nature region to the west of Ninh Binh City. In particular, they're referring to the town of Tam Coc and the province's Trang An Scenic Landscape Complex, which has been recognised as UNESCO World Heritage Site since 2014. The Trang An eco-tourism area is central while Tam Coc is to the south. The north is also where you'll find the ancient capital, Hoa Lu.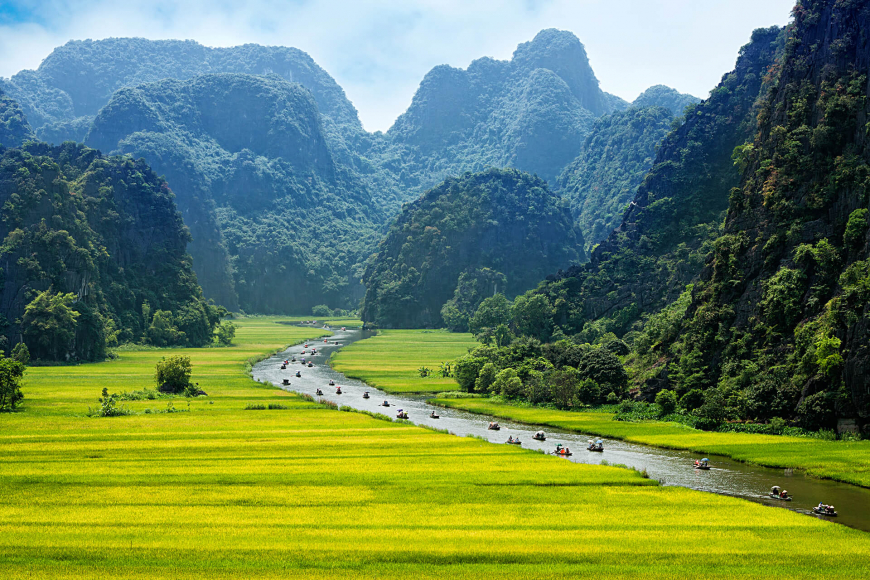 In all, the 6,226ha of Trang An Scenic Landscape Complex complex includes three protected areas linked by evergreen forests, lakes, and rivers weaving between limestone mountains. The region boasts over 300 rare and exotic plant types, plus endangered animals.
With distinctive deep valleys between steep, limestone karsts, the region is magical. The mountains are full of caves, and many of the valleys are filled with pretty waterways and fertile fields laden with rice and other crops.
Hoa Lu, 100km from Hanoi, was once the kingdom of the Dai Co Viet, who reigned during the Dinh and Le dynasties. It's known as 'the first capital of Vietnam', and there are many sacred historical relics and temples. While the capital was here back in the 9th and 10th centuries, UNESCO states that "exploration of caves at different altitudes has revealed archaeological traces of human activity over a continuous period of more than 30,000 years".
UNESCO also say: "Visitors, conveyed in traditional sampans rowed by local guides, experience an intimate connection with the natural environment and a relaxing sense of serenity and security. The dramatic mountains, secretive caves and sacred places in Trang An have inspired people through countless generations."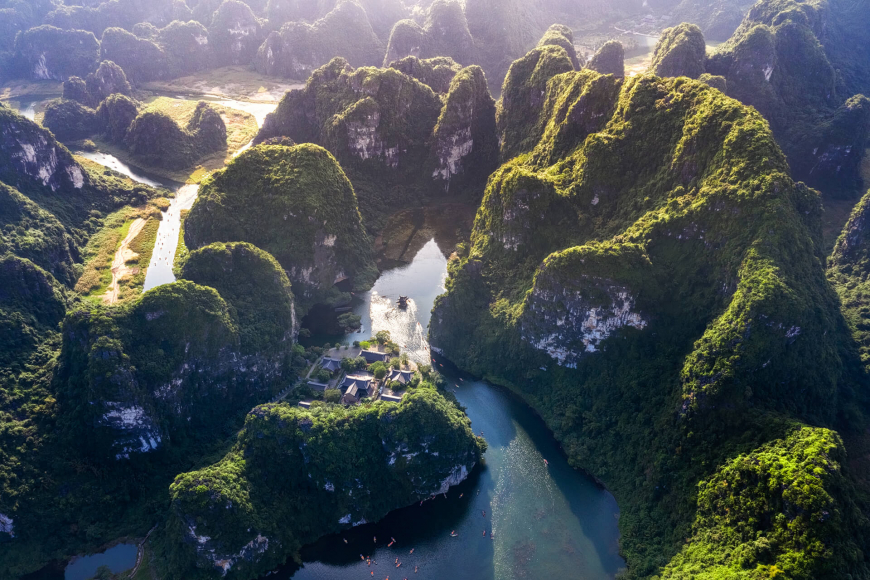 Tam Coc or Trang An?
The two most beautiful places in Ninh Binh are undoubtedly Tam Coc and Trang An. Travellers often wonder, which of these main boat tours should I take? Well, Tam Coc is closer to the tourism hub and is the quicker, more budget-friendly option.
But both places feature the distinctive, ingenious 'foot rowing' technique that boaters developed to lessen strain on their hands, arms and backs.
The Tam Coc boat tours
As this is the main tourist area, the boat tours from here are popular. As the routes are shorter, this option is suited to travellers with less time.
Buy tickets at the Van Lam pier. Then you'll wind peacefully between the lush fields and dramatic karsts, typically stopping at the three caves the name 'Tam Coc' refers to: Ca, Hai and Ba. The scenery is stunning during rice harvest season, especially, when the rice has turned golden. To see some of the route from a high vantage point, climb to the lookout point at Mua Cave.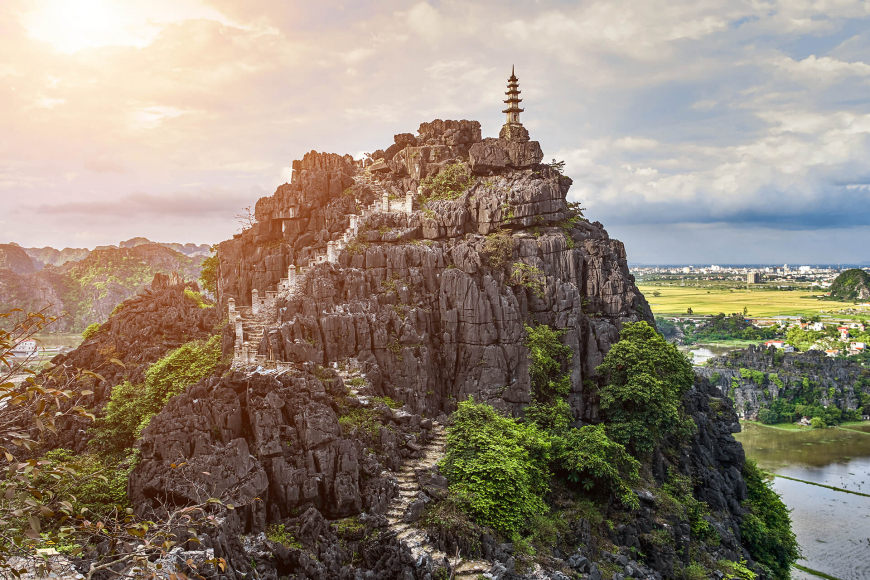 Please note, your guide will tell you whether two or four people can share the boat. The tours take between two hours for a round trip.
The Trang An boat tours
Got more than one day? Travel to Trang An, a countryside region about 20 minutes from Tam Coc. Here you can choose from three boat tours that are considered more dramatic and rewarding than the Tam Coc route.
Why? Because they travel through a pristine, protected area that is full of impressive grottoes and temples. Trang An is where to go to see sacred historical and cultural sites, such as the Bao Hieu pagoda, en route. You can make stops at the sights, the mountains are larger, and the caves are longer. There are three main boat-tour options:
Option One (3-4 hours): It takes you in a circular route to: Trinh Temple, Dark Cave, Light Cave, Nau Ruou Cave, Tran Temple, Ba Giot Cave, Seo Cave, Son Duong Cave, Khong Palace, Bao Hieu Pagoda, Tran Cave and Quy Hau Cave.
Option Two (2-3 hours): Visits Lam Cave, Cao Son Temple, Vang Cave, Thanh Truot Cave, Dia Linh Mountain, Suoi Tien Temple, Dai Cave and Hanh Cung Vu Lam (Vu Lam Royal Step-over Place). This is one of two tours that go to where scenes from the movie Kong: Skull Island were filmed.
Option Three (3 hours): This tour explores a large cave and a location from Kong: Skull Island. You go to Trinh Temple, Dot Cave, May (Cloud) Cave, Suoi Tien Temple, Dia Linh Mountain, Dai Cave and Hanh Cung Vu Lam (Vu Lam Royal Step-over Place).
Other boat tours in the area
Curious about caves? Take a boat tour to Thien Ha cave, the 'galaxy grotto'. Admire the stalactites in this 700m cave, which includes dry and wet areas. Signs of ancient Vietnamese habitation have been found here.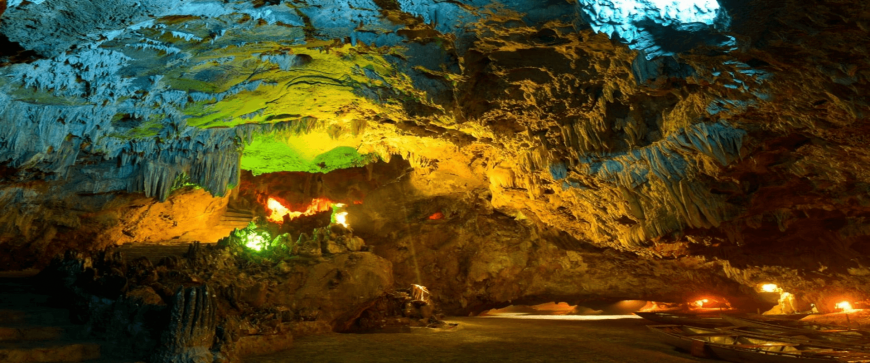 Source: Internet
Bird watchers shouldn't miss the birdwatching tour through the Thung Nham Bird Park. Spot species such as fire warblers, starlings and storks in an area that includes forests, orchards and flowers.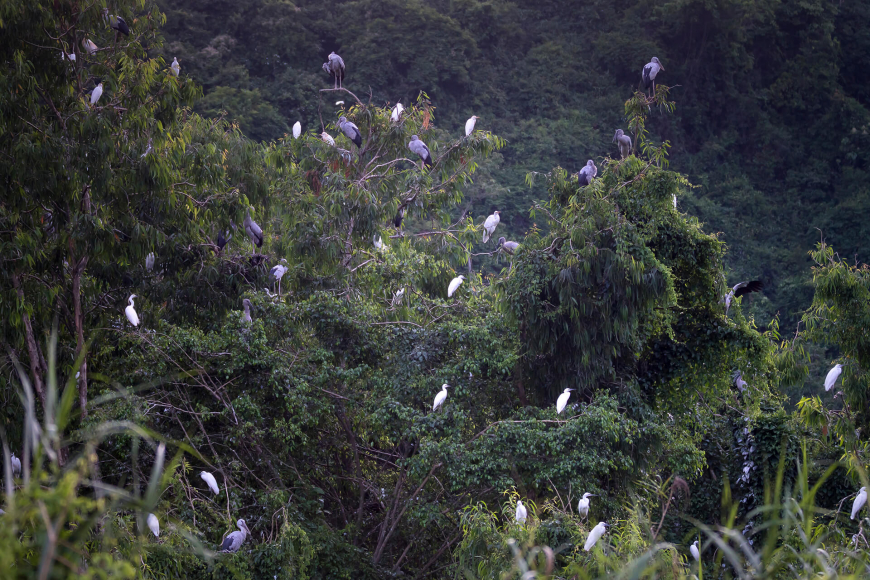 To be immersed in nature, tour the clear and gentle waters of the Van Long Nature Reserve, a biodiverse region on the Global Green List Commission's (IUCN) green list. Travel through the wetlands, discover grottoes, and look for precious flora and fauna, such as Delacour's Langur, chamois, Chinese pond heron and stump-tailed macaque. Sacred sites in the reserve include the Dich Long Pagoda.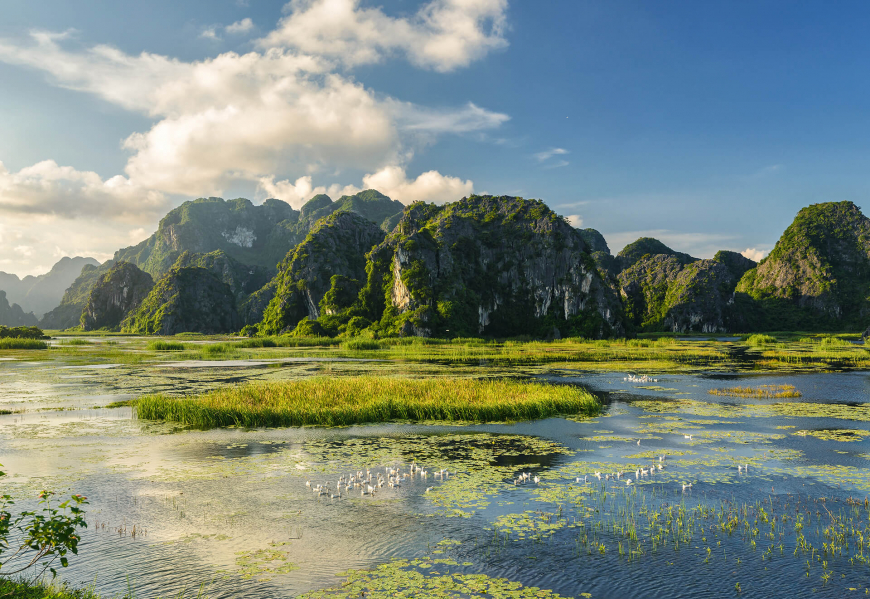 These lesser-known options aren't as busy as the Tam Coc and Trang An tours.
Tips for taking Ninh Binh's boat tours:
Wear sunscreen and a hat

If you don't like crowds, avoid peak times of the year (such as Tet, the Lunar New Year)

Stay hydrated

Follow the safety rules and always wear your life jacket