Ho Chi Minh City is bursting at the seams with enticing experiences for travelers. A weekend is not a whole lot of time, but with the help of our insider itinerary, you'll see, do and taste just enough to get a well-rounded picture of this dynamic metropolis.
---
Saigon demands that you immerse all of your senses into your surroundings: it's impossible to be a passive bystander. In the daytime heat, the relaxed states of life in the hems and alleys contrast with the never-ending stream of two-wheeled traffic on the roads. At night, the streets are illuminated with neon pink store signage and night markets. Few cities will leave you feeling the way Ho Chi Minh does, and you will always yearn for more.
SATURDAY: DO AS THE LOCALS DO
9 a.m.: Wake up with a ca phe sua da in one of HCMC's many hidden cafés to prepare yourself for a solid day of exploring. Here's a tip: Most of the good stuff is happening where you can't immediately find it, and this is always true of Saigon cafes. There are many old classics sprinkled around District 1, but chances are you'll find a worthy candidate right on your street corner.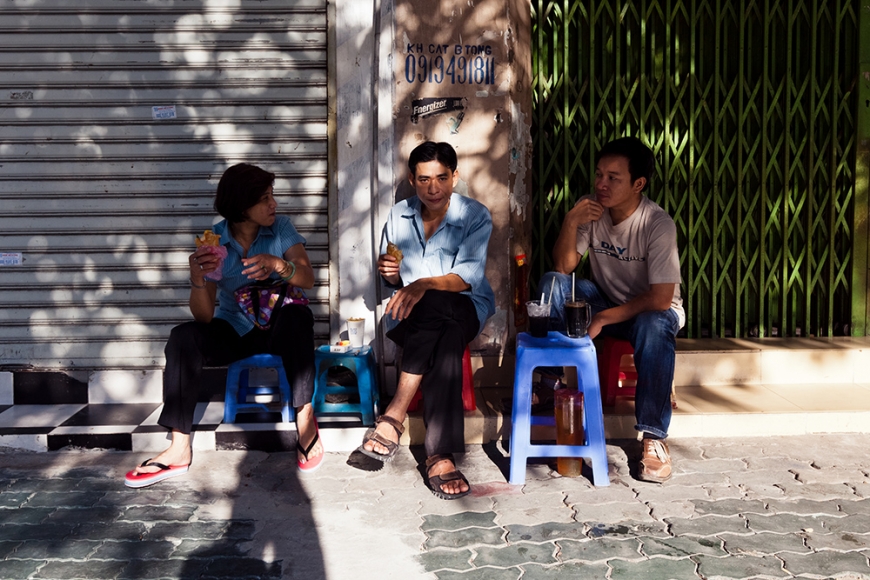 10 a.m.: Start your sightseeing with the Botanical Gardens at 2 Nguyen Binh Khiem. Spend VND50,000 on entrance to the Vietnam History Museum situated in the same property. The small building is home to artefacts, history, and even its very own mummified body!
12 p.m.: No trip to Ho Chi Minh City would be complete without a visit to The Lunch Lady, an outdoor eatery parked at 23 Hoang Sa Street in District 1. The so-called "Lunch Lady" became very popular after being featured on No Reservations with Anthony Bourdain(definitely worth a watch before you embark on your journey.) Her noodle-based soups change every day and there is no menu; enjoy whatever sole dish is being offered that day.
1 p.m.: Saigon is the perfect place to help you relax when you need it, so be sure to stop by one of the city's spas for a mani-pedi or foot massage to really let go of all stress. My Spa in District 1 on 5C4 Thi Sach Street comes highly recommended for price and atmosphere.
3 p.m.: Immerse yourself on a walking tour of Vietnamese history in District 1. Start at the Reunification Palace on 135 Nam Kỳ Khởi Nghĩa, walk through the park straddling Le Duan street towards the Notre Dame Cathedral and Post Office. After some picture taking and sightseeing, head down Dong Khoi where the Saigon Opera House awaits your appraisal. Continue straight down the avenue until you reach the Saigon River. A warning as you take pictures: beware of wily strangers and never accept cyclo tours from anyone on the street.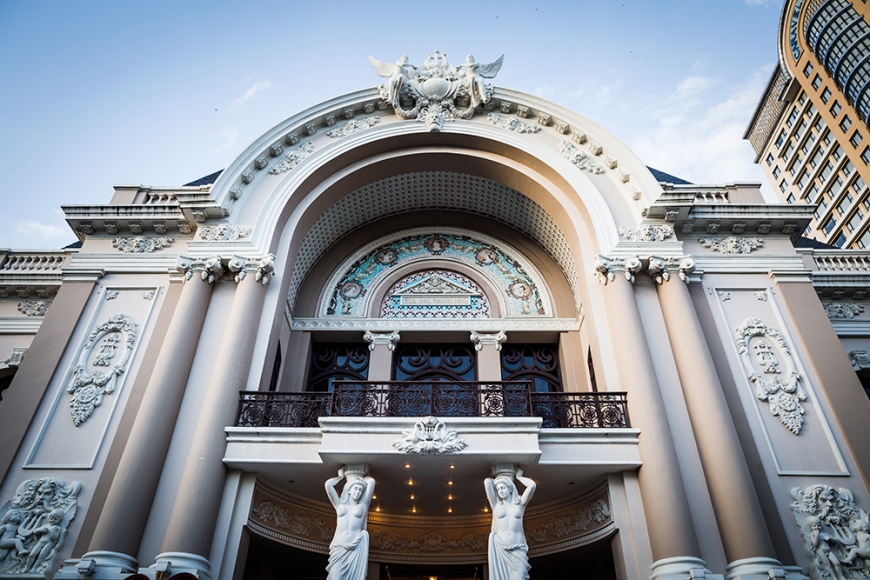 5 p.m.: Stroll down Nguyen Hue street and you will encounter Saigon at its most communal. Nguyen Hue Pedestrian Street is a popular hang out spot for all ages and is the finest example of the Saigonese affinity for public spaces. Catch the sunset cast its unearthly glow over sprawling city views at one of HCMC's many rooftop bars. Sorry to put a damper on your plans but rooftop bars are an understandably "wet" experience come rainy season, which falls between June and November. If you would prefer an open-air experience, the Hotel Rex rooftop bar, also on Nguyen Hue, is an old journalists' haunt for 5 o'clock follies. Beer connoisseurs would be crazy to miss the craft brews at Pasteur Street Brewing Company located at 144 Pasteur Street. Though not a rooftop bar, it offers a great atmosphere for happy hour and some of the best beer in town.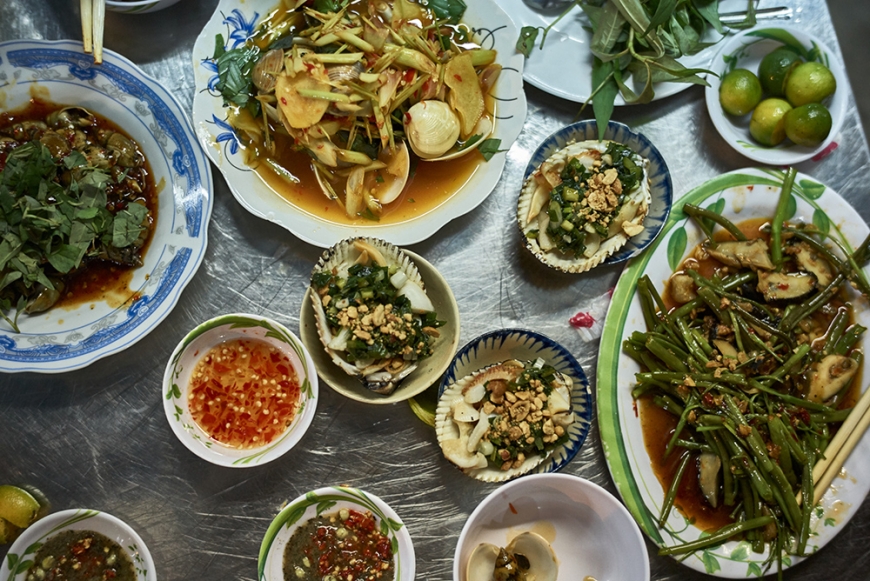 8 p.m.: Feeling adventurous? Venture out for a shellfish-themed spread at Oc Oanh in District 4 on 534 Vinh Khanh. This is the most immersive experience of streetside fare you may ever encounter in your life; mopeds, street performers, and rowdy locals will surround you at all ends. An assortment of crab, scallops, mollusks, and freshwater snails cooked in butter, garlic, lemongrass, and/or chili, go best with the Saigon's homegrown lager, 333 Beer, served with a large hunk of ice. Skepticism does not fair well in this type of environment so boldness and faith are key. There are many similar family-owned restaurants along this street and the crowd is liveliest between 8 p.m. and midnight. Arrive early for good seats, and don't be afraid to ask your neighbor for help while ordering as the staff may not speak English and guaranteed there won't be any English menus. Half the fun is doing as the locals do so feel free to copycat orders.
10 p.m.: Flag a cab to District 3 to check out Acoustic, on 6E Ngo Thoi Nhiem Street, which is anything but quiet. Live music and performance is a staple in Saigon, and no night would be complete without experiencing some local talent. Expect a mix of young and old, local and tourists, and lots of rock and pop covers of songs you can't help but sing along to.
12 a.m.: End your night at The Observatory, an underground dance club located at 5 Nguyễn Tất Thành, dancing the night away surrounded by the cool kids of Saigon. This club keeps the party going until the wee hours of the morning (typically 6 a.m.) and is a guaranteed fun night out if you enjoy getting your groove on.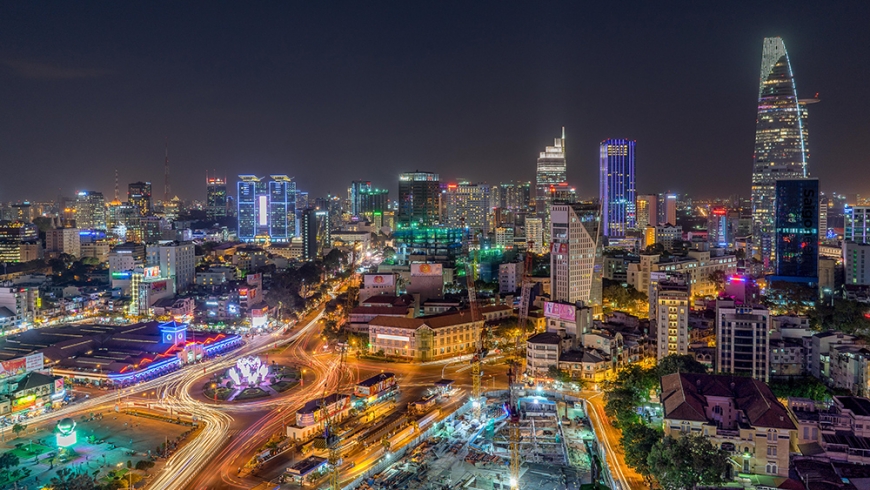 ---
SUNDAY: BE AMBITIOUS
9 a.m.: Start your Sunday with a street-side banh mi packed with pickled vegetables and succulent pork, and then make a peaceful pilgrimage to Chu Van Phat Temple of Ten Thousand Buddhas in District 5 located on 66 Nghia Thuc Street. This beautiful temple is off-the-beaten track and a wonderful place to find a sense of calm within the city. Be sure to stop by at the lady parked across the street afterwards for a fresh coconut or juice to rehydrate and admire the small, but tall temple, from the outside.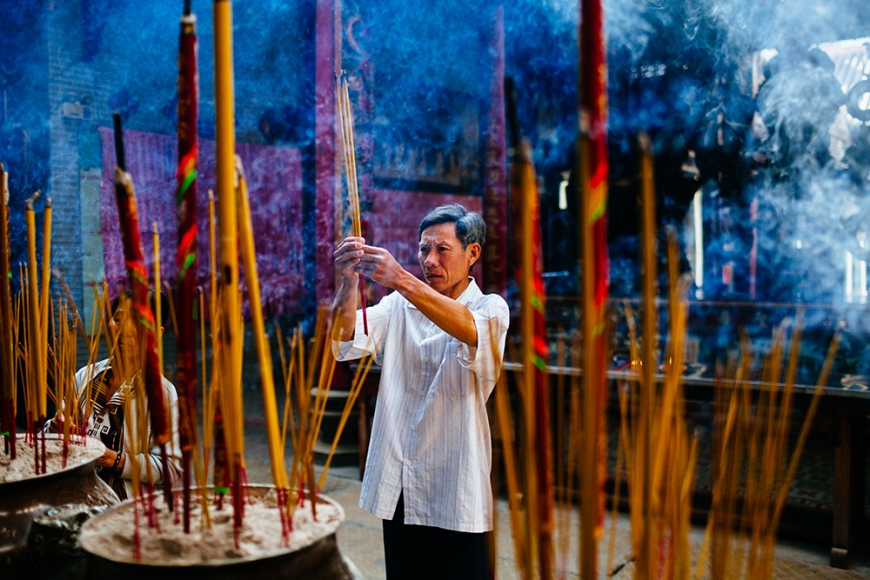 10 a.m.: To continue on the theme of spirituality and history on this sightseeing walk, make a stop at the Venerable Thich Quang Duc Monument in Phu Nhuan District (on the corner of Cach Mang Thang Tam & Nguyen Dinh Chieu Street). This monument and garden is a testament to the life of Thich Quang Duc and a worthwhile stop within the city.
12 p.m.: For lunch, treat yourself to some traditional Northern pho at Pho Binh (Peace Soup) in District 3, which is only walking distance from the Tan Dinh market on Hai Ba Trung Street. Ask the owner about the history of the restaurant, which was a critical meeting point for the Viet Cong during the American War before and during the Tet Offensive. This is a great place for traditional soup as well as an interesting insight to the city's history.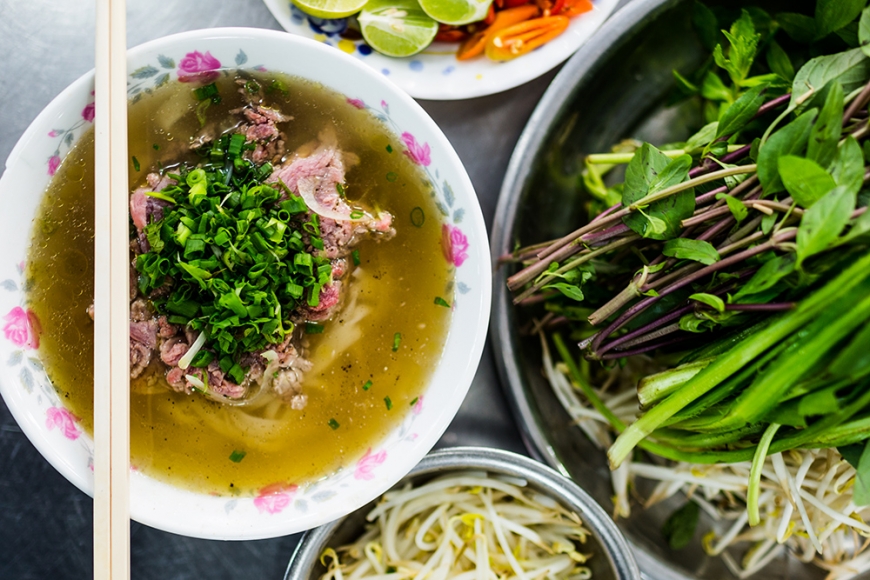 1 p.m.: Get your haggle on at Tan Dinh Market on Hai Ba Trung in District 3, one of the city's most well-known markets which offers similar products to the infamous Ben Thanh market, but with less tourists and hawkers trying to take advantage of you.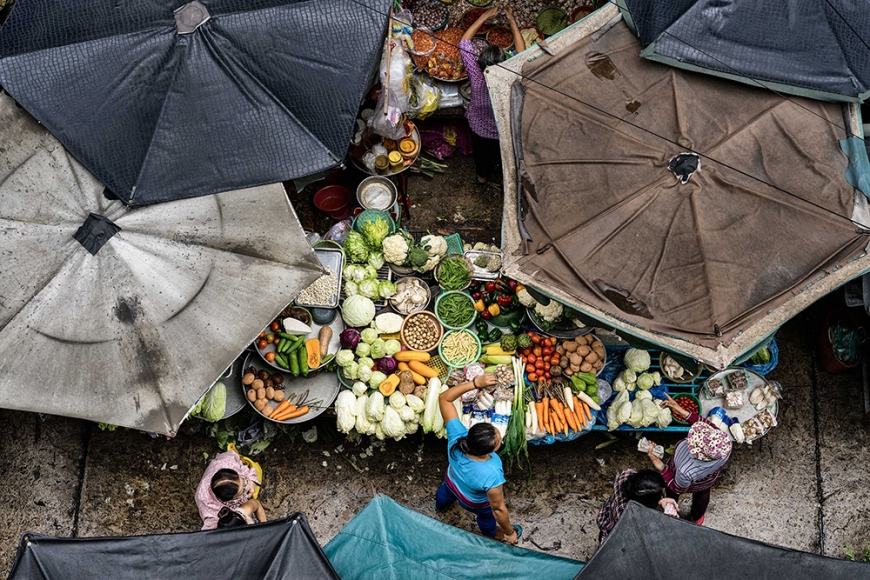 3 p.m.: For those willing to adventure out of the center, District 2 has experienced a proliferation of expat-owned cafes and boutique shops. The result is a diverse neighborhood that reflects a meeting of old and new. A gem within District 2 is Saigon Outcast located at 188 Nguyen Van Huong Street. This outdoor venue is home to monthly Sunday markets, art classes, live music, skateboarding, rock climbing and a lot of seasoned locals.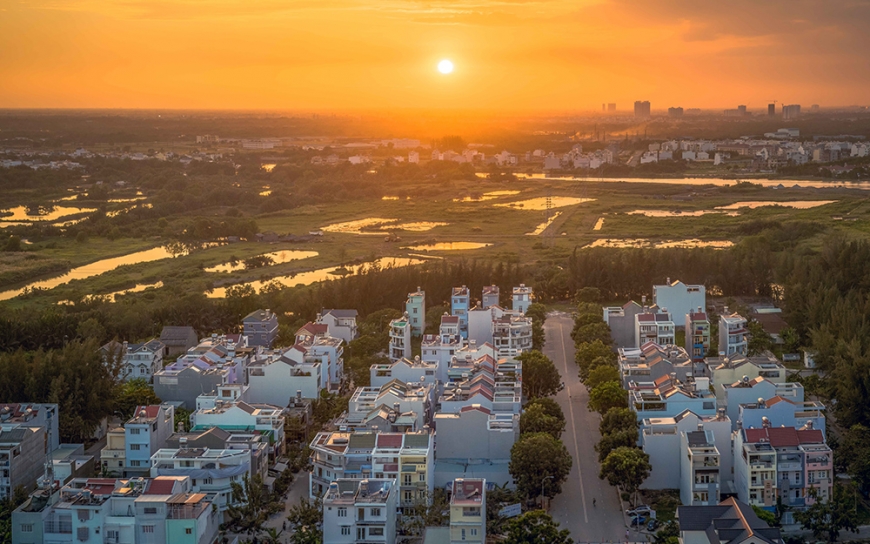 6 p.m.: The infamous Pham Ngu Lao and Bui Vien streets are the typical tourist haunts in Saigon, and filled with cheap beer and debauchery. This may not be your scene, especially if you're not a backpacker, but compared to the rest of the city, Bui Vien exists in its own little world. Roam the street (but keep your purses and bags close to your body) and haggle for some souvenirs. If you already have plenty of souvenirs, tuck away in one of the smaller bars, such as 185 Happy Life on 185 De Tham to soak up the atmosphere and the people watching. With enough time and patience you will make friends and see sights you never could've imagined.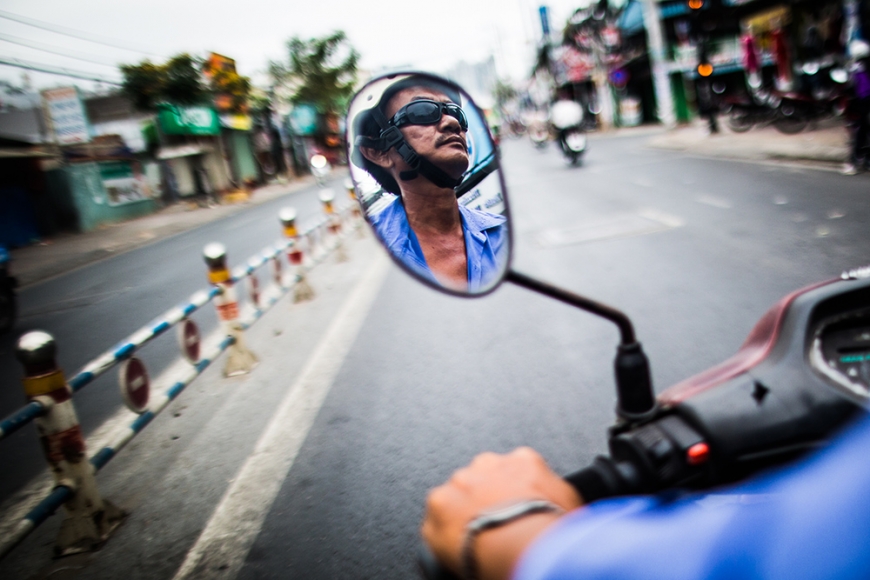 9 p.m.: A decent walk, or short xe om away from Bui Vien is Mountain Retreat, hidden away on the 6th floor of 36 Lê Lợi Street. This restaurant is popular, so book ahead, and prepare for a delicious feast of more rustic delights. Located a little ways down the hem and up seven flights of stairs, the food and view are more than worth the climb.
---