Nha Trang is a beach resort city, simultaneously laid back and frenetic, a place both for lazy sunbathing days and partying through the night. The shoreline is a world-famous crescent moon of white sand framed by grassy parks and promenades. Beyond the beach, modern skyscrapers offer fine dining and rooftop views. The depths of the city are teeming with pubs, bars, and nightlife to suit every age and interest.
The city's fresh seafood is one of its biggest draws. Nha Trang is famous for its specialty seafood dishes. Everything from fish and crab to jellyfish can be prepared in dozens of diverse delicacies. Head to any restaurant – a roadside shack, or a fine dining establishment with white tablecloths – to select your live fish straight from the bucket. Order by weight and barbecue it yourself, or choose from a dizzying variety of sauces and sides, steamed, stir-fried, or boiled in soup.
Between bites, be sure to spend your time exploring the beaches. Nha Trang sits on a bay dotted with tropical islands. It's possible to visit these islands at a cost, which goes towards supporting the conservation of the local wildlife. Otherwise, sit back and relax on the land-bound beaches, enjoying the islands by eye as the sun slips by them.
---
Best Beaches in Nha Trang
Tran Phu Beach
Tran Phu Beach is the city's centerpiece, a 7-kilometer stretch of yellow sand cutting straight across the cosmopolitan coastline. Its prime location keeps it busy, but for good reason. The water is clear and bright blue and, though the beach is popular, it is long enough to stake out a private spot to sunbathe in peace.
Activities like diving, surfing, and snorkeling are all readily available for those who prefer active play. For those who prefer a "beach between bites" sort of vacation, just walk across the promenade, past sculpture gardens and ornamental plants, into any of the nearby restaurants and bars.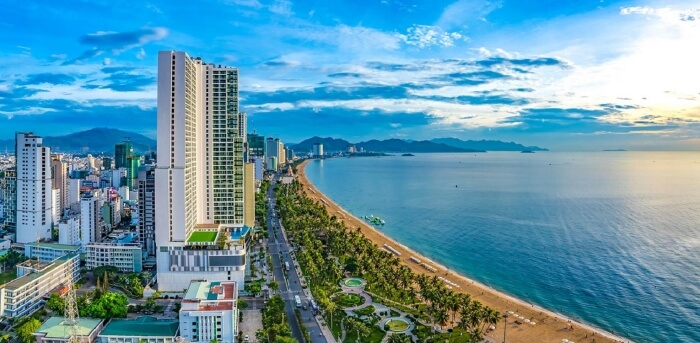 Source: Internet
Nhu Tien Beach
Nhu Tien Beach is only 10km from Nha Trang yet completely isolated from the city. Completely surrounded by mountain ranges, the beach is a private strait of peace, a watercolor painting of water and jungle stretching as far as the eye can see.
Its proximity to the city combined with its stunning natural landscape makes Nhu Tien perhaps the best beach in Nha Trang. In under thirty minutes, it's possible to leave the metropolis in favor of caves, natural rock formations, and hiking trails. Head to the cape for a spectacular sunset, and head back into the city for a nightcap.
Bai Dai/Long Beach
Drive 25km south of Nha Trang to reach the wild beauty of Bai Dai, tucked under the arm of a green mountain. Removed from the hustle and bustle of the busy city, Bai Dai feels far more rugged than Tran Phu Beach. It's a low-key location, a place for renting a beach chair and lazing the day away. Seafood restaurants are just as accessible here as in the city center but without the hungry crowds. If it's an especially busy day, and the beach feels a bit too crowded, just keep driving south. The beach goes on and on and on, and it's all public land.
Doc Let Beach
About 40 kilometers north of Nha Trang City, Doc Let Beach hides like a gemstone in Van Phong Bay, a paradise nestled in a forest grove. A 2.5km stretch of white sand beckons before the arms of blue poplar trees and casuarina groves. Surrounding islands bob like mysteries in the distance, adding depth to the bay's still water.
The water is calm and shallow enough to wade out only waist-deep for hundreds of meters. This makes Doc Let the perfect beach for families with children or the elderly, as well as for swimming and canoeing. Be sure to bring or rent goggles or snorkeling equipment – the water is clear as glass all the way to the sea floor.
Tru Beach
Tru Beach is an oasis on Hon Tre Island, accessible by boat, ferry, or the world's longest sea cable car. The white sand is kept sparkling clean from waste, making it a delectable escape from civilization for families, couples, and single travelers alike.
Spend an afternoon trying out shrimp and squid diving with locals. Or, for a break from the beach, head to the Vinpearl Land amusement park and aquarium. Motorboats are available for hire to hop around the neighboring islands.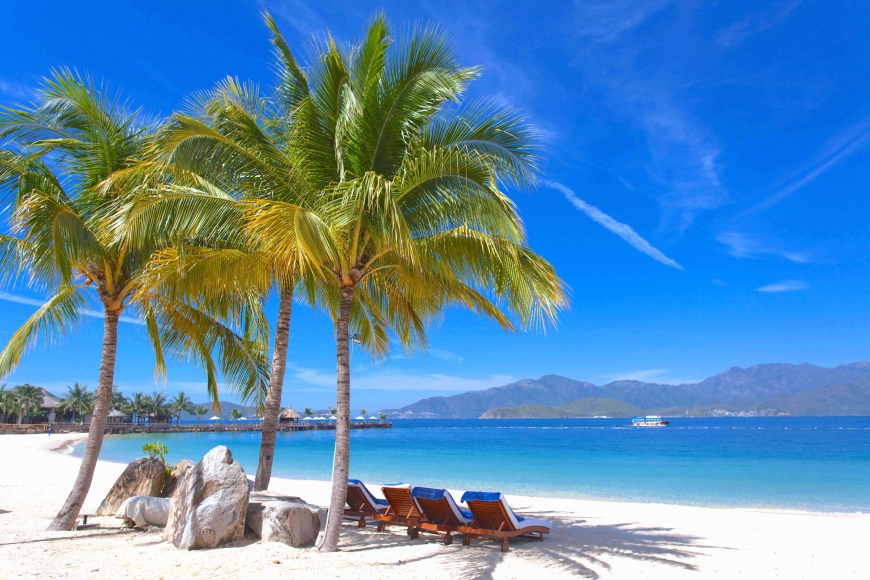 Luxury and Sustainability: Six Senses Ninh Van Bay
Nha Trang is home to some of the world's most luxurious resorts, some of which have won prestigious international awards. Six Senses Ninh Van Bay is perhaps the most remarkable among them. Situated in the heart of Ninh Van Bay, Six Senses is like a luxury ecological paradise that has been praised by sustainability experts as one of the world's leading eco-resorts.
The resort is embedded in the natural landscape, threaded around giant rock formations and enmeshed in the forest. All villas are made from organic materials like redwood and bamboo, and every single tree cut down for its construction was replaced by ten new saplings. Abundant wildlife are the closest neighbors – endangered langurs live in the surrounding forests, thanks to a collaborative conservation program between the resort and GreenViet.
Six Senses is committed to carbon emission reduction. All electricity used comes from solar panels, and no plastic has been used on site since 2020. Food waste is recycled into compost, citrus peels are transformed into essential oil products, and even old towels and linens are recycled into plant pots and beeswax food covers.
The grounds are surrounded not only by wild forests but also by vegetable gardens and fruit orchards growing seasonal tropical fruits like mango, papaya, and pomelo. Most of the food prepared in the restaurants is grown on the premises. Drinking water is purified through a reverse osmosis system at the resort and bottled in reusable glass containers. This system alone is estimated to eliminate 10,000 plastic bottles from the waste system each month.
Stay here to learn more about Six Senses' commitment to sustainability. The center has organized campaigns to collect waste from Nha Trang's beaches and provides a water filtration service to two different primary schools to reduce waste and support public health.
And of course, the resort provides guest services to match its environmental efforts. Join in on daily activities like boating, swimming, trekking, and cycling, or participate in cooking classes, spa treatments, or yoga.
Source: Internet