If love is a five-letter word and it is incomplete without you, then Vietnam would be one of inherently romantic countries for lovey-dovey lovers, and different regions offer different flavors of love.
In the center of the country, Hue and Hoi An have heritage charm on tap. Artisanal goods and handicrafts, culinary innovation, ancient architecture await curious couples seeking culture and mystery.
In the north, Sapa's indigenous agriculture ripples down the sides of mountains in waves of green and golden grain. The highlands of Da Lat offer hills of a different sort: mist and tea plantations, cool weather for cuddling, meandering parks blooming in rainbow bouquets of flowers.
In both the northern and southernmost tips of the country, tropical islands like Phu Quoc and Cat Ba near Ha Long Bay wait for elopements and engagements. The white sand of archipelagoes, the gentle rock of cruise boats, and the open azure ocean all offer themselves freely to couples as a cradle for love.
It's possible to spend weeks or months falling in love in (and with) Vietnam. Here are six of Vietnam's most romantic destinations for a shorter holiday or honeymoon.
---
Da Lat
There's a good reason that Da Lat is called the "city of eternal spring." It's a temperate haven away from Vietnam's tropical weather, a city of flowers and honeymooners, the fresh air, beautiful waterfalls and gorgeous lakes.
The mansions and villas built by the French have been converted into guest houses overlooking mountains and valleys. Hop on a bicycle – a tandem, perhaps? – to pedal past still lakes and poetic, flower-adorned pathways. Xuan Huong Lake is in the center of the city and offers spectacular sunsets. It's just a short trip to Tuyen Lam Lake, one of the most beautiful bodies of freshwater in the highlands. The city of thousands of flowers is also an ideal place for wellness and retreat tourism.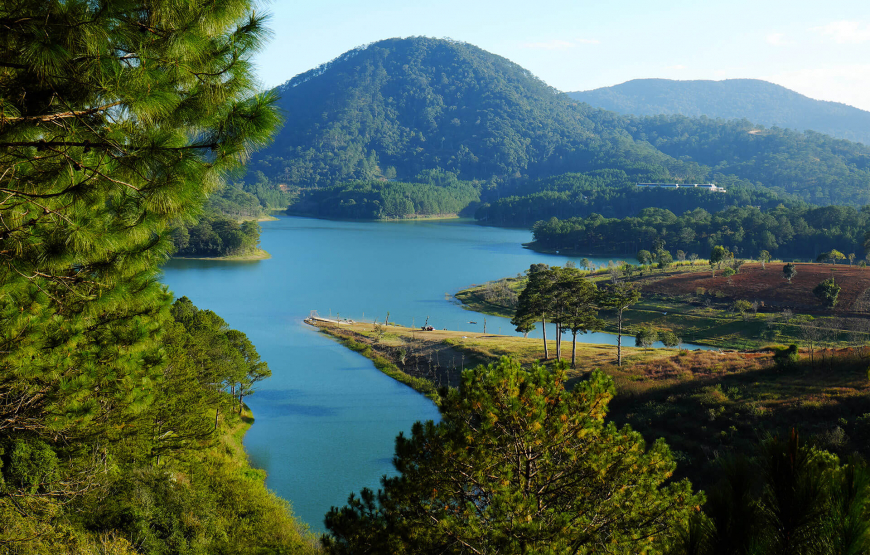 The city is in bloom at every moment. Flower gardens carpet every corner, cultivated in endless rows in massive public parks. One of these is called the Valley of Love, its name inherited from the French "Vallee d'Amour." The park is quite literally made for couples. Stroll hand in hand past sculptures and through fields of lavender towards the trail up Vong Canh Hill, thick with pine forest. Take the steps or hike to the top to see the valley unroll in vibrant color against Da Lat's clarity of sky.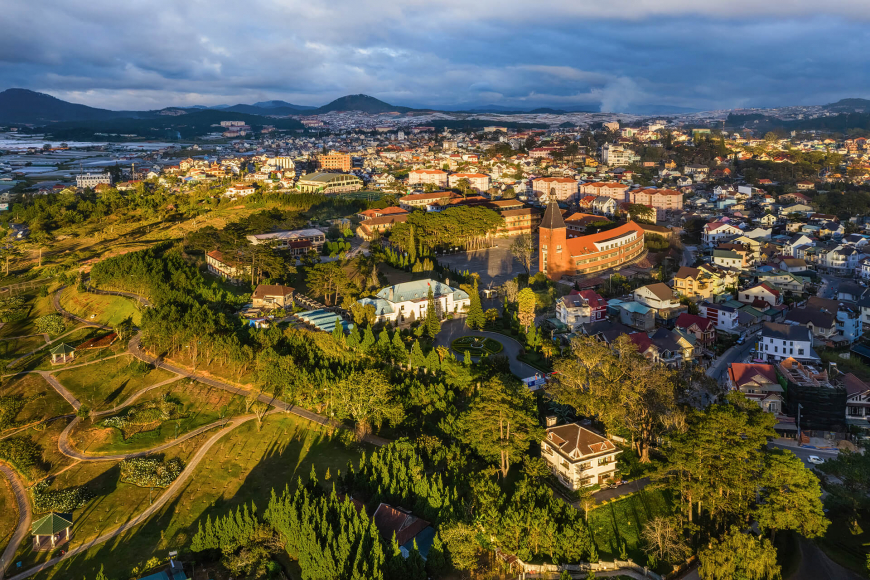 ---
Phu Quoc
Phu Quoc is one of the most popular honeymoon destinations in Vietnam. It's the largest island in the nation, a ring of varied beaches surrounding a UNESCO-protected national park. Every possible romantic activity can be found here.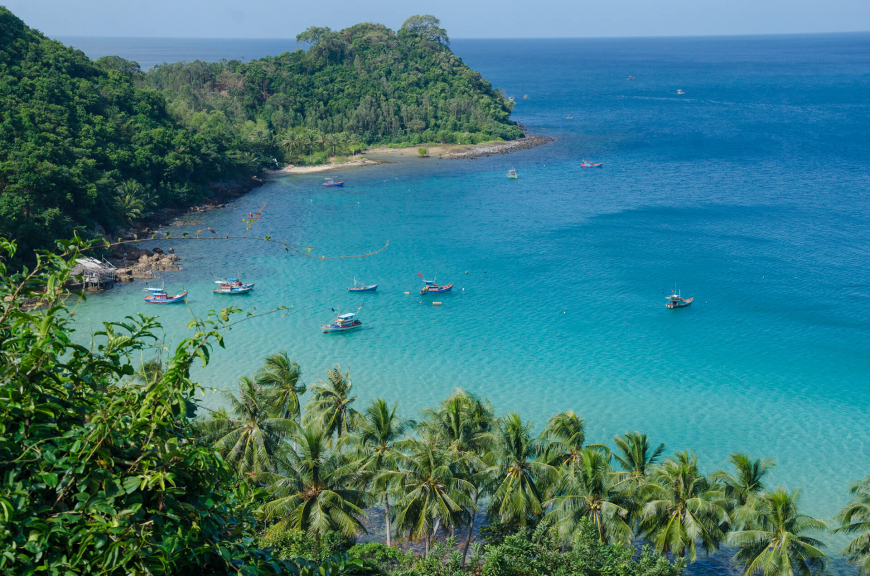 Spend blue days and pink evenings taking long walks on quiet or bustling beaches – just change up the shoreline to suit the vibe. Oceanside nightlife and luxury resorts await couples needing pampering and parties. Find a patch of sand enclosed by rocky bluffs for peace and privacy, with nothing but the waves for music and company. Fresh seafood is abundant and affordable, so fine dining can be found atop white tablecloths or in the tiny shacks of fishing villages.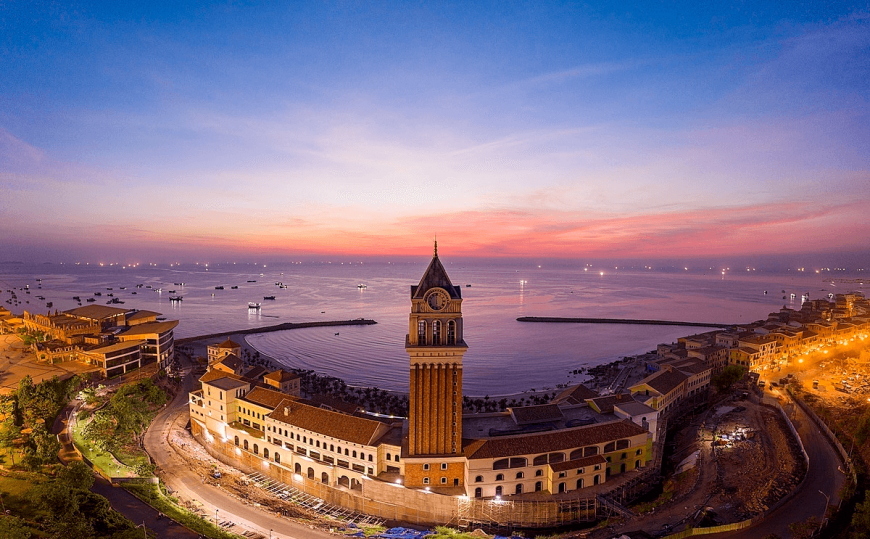 Source: Internet
Rent a motorbike to adventure through the landscape with a touch of speed and wind-teased hair. Much of the national park that sprawls over more than half of the island can be explored on two wheels with no shortage of viewpoints. But true nature lovers really ought to explore by foot – there's many days' worth of trekking to be done here, accessible to every fitness level. All trails wrap around to waterfalls and caves and primal jungle, harboring ecosystems teeming with plant and animal life.
---
Sa Pa
Located in north-western Vietnam, about 350km from Hanoi, Sa Pa is a justifiably world-famous destination for travelers seeking easy-to-reach adventure, a heartthrob cultural treks for couples. Sapa town itself is unremarkable – it's the natural scenery that's worth the trip – but a nevertheless fantastic base for exploration. Stay in a homestay run by an ethnic minority family for a truly authentic experience. Most of these are tucked into mountains outside of town, and the morning sunrise carries with it the promise of a day in remote nature.
Adventurous couples should consider a hike up Fansipan mountain, the tallest in Southeast Asia. The overhead view gives the hike a run for its money. Trekkers are rewarded with hours of immersion in nature, breathtaking views from the peak, and the camaraderie of conquering challenges with a sweetheart. If the hike feels overly strenuous for a romantic holiday, the peak can be reached by the Guinness World Record cable car. Cable car riders are rewarded with an easy cruise through the sky itself, veridian hills and valleys rolling by underfoot.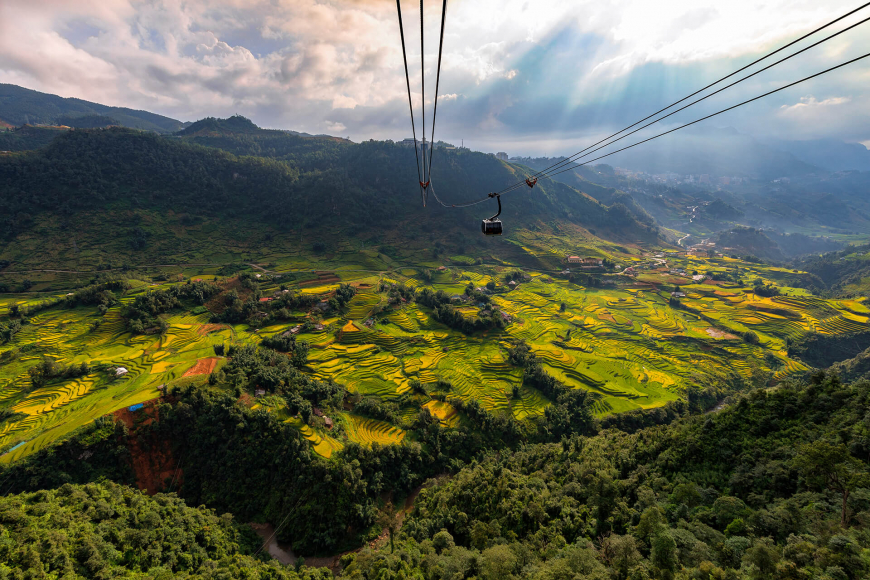 There's no "unromantic" scenery here. The entire Sapa region is composed of terraced rice fields that have been cultivated over hundreds of years to careen in geometric stairways down mountainsides as far as the eye can see. Come in harvest season – March to May, and September to November – to see the landscape gilded in autumnal hues ready for cutting. The rest of the year, the paddy fields are alive with a thousand shades of green, flooded fields reflecting blue sky like a house of mirrors.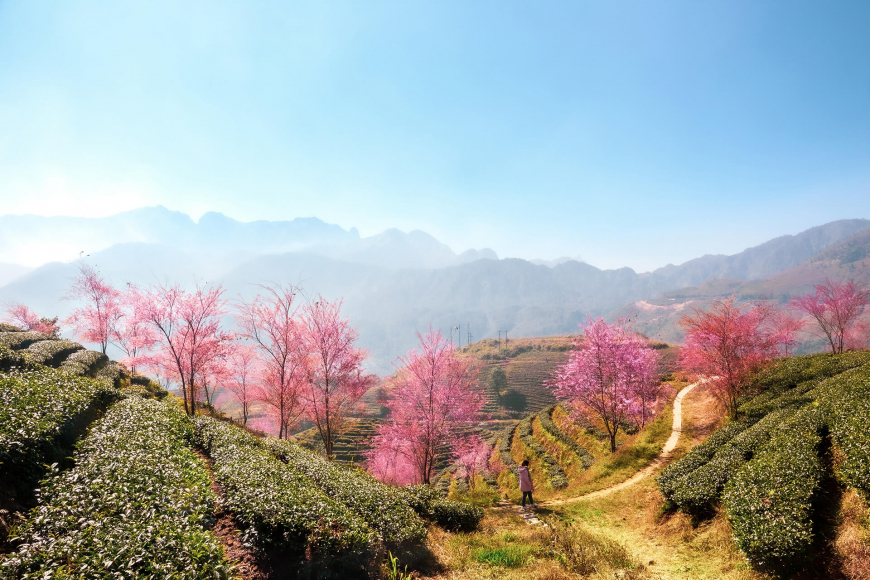 ---
Ha Long Bay
Ha Long Bay is one of the most popular honeymoon destinations in Vietnam. This UNESCO World Heritage site draws lovers and travelers of all ages to its other-worldly limestone landscape. Towering karst formations jut from emerald water like scars. Many are untouched by human civilization and are still wild with rainforest, lush fresh mysteries against sharp rock and endless ocean.
Ha Long Bay is best discovered by cruise. Choose an itinerary that suits – any number of days and nights can be a freewheeling combination of sports or sunbathing, adventure or leisure. Kayak through caves and around uninhabited islands. Scuba dive to discover coral reefs and the delight of multicolored marine life. Visit floating fishing villages for a taste of culture and seafood. Or simply relax on board as the boat drifts through the landscape; it's interesting enough to take in by eye alone.
Public cruises are available to share the experience with a group of close friends or strangers. The more romantic way to go is with a private booking. Personal chefs, luxurious bedrooms, glass walls, bathtubs, and sommeliers are a worthy splurge. But the sun will set on every budget to light the world up in color. The sky bursts into spectacular constellations when darkness descends on the karsts.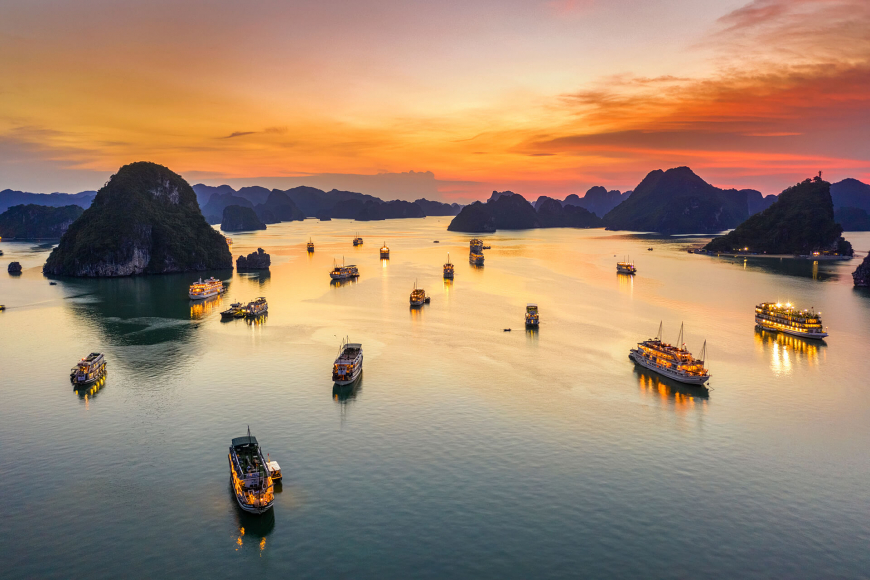 ---
Hoi An
Hoi An is a timeless town where ancient love fills the streets with a thick aura. It's a city made for falling in love, and its atmosphere is nearly viscous with centuries of it.
The architecture itself is a flirtatious, multicultural dance. Chinese, Japanese, French, and Vietnamese influence all live here. Wander down winding alleyways, through a labyrinth of faded yellow paint, under pink and purple buganvilias tumbling from wrought iron French balconies. It's easy to lose track of time in this pretty town, but be sure to ride a bicycle through the rice paddies. Tiny cement pathways meander through wet green fields smelling like earth and rain.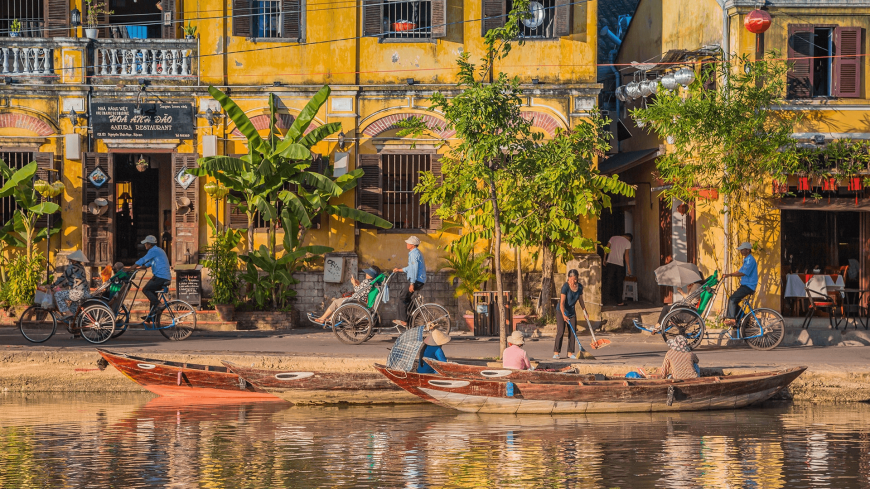 Source: Internet
In daylight and until sunset, it's easy to find a tucked-away corner of An Bang or Cua Dai Beaches. Single-story restaurants and cafes line the back end of the beach, so everything still feels open to the sky. The tide is quiet and calm; here the ocean whispers rather than roars. Look up the coast to the north to see Son Tra Mountain beckoning – Da Nang is actually quite close but, from this vantage point, seems far enough away to make Hoi An's charm feel like a world apart.
At night, the streets take on a mystic golden glow from an impossible number of dangling silk lanterns. Head to the river for a candlelit dinner and then a moonlight stroll. Float a paper lantern to watch its flickering candle carry lovers' wishes downstream.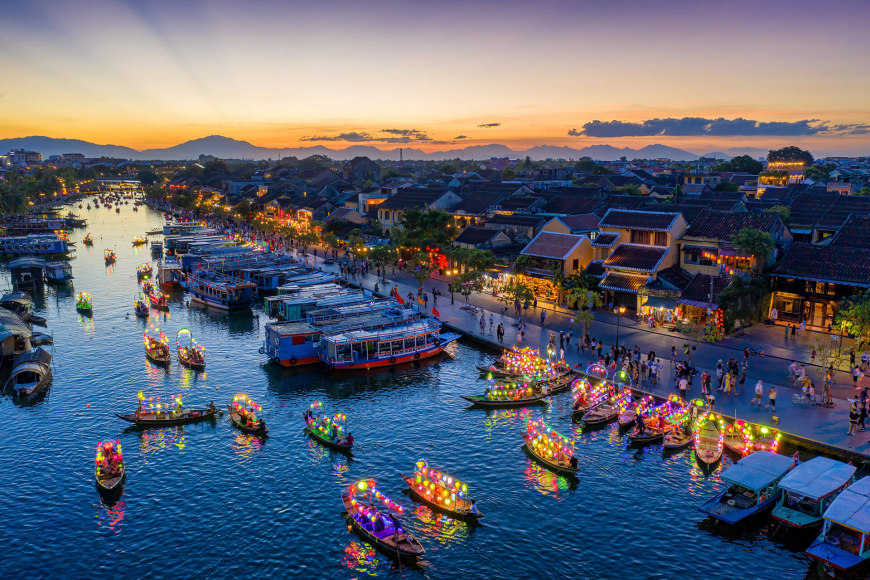 ---
Hue
If Hoi An is fluid with romance, then Hue is dense with it. Hue will definitely be a muse for everyone to fall head over heels with, a city of golden age with royal palace, scrumptious dishes and a "walk to remember" place.
This is the former imperial capital of Vietnam, a city of citadels, tombs, and temples. Stone statues pay quiet homage to heroes that have shaped the nation. Walk hand in hand through the Forbidden City, a treasure protected by crumbling walls so high it seems to have been shielded from time itself.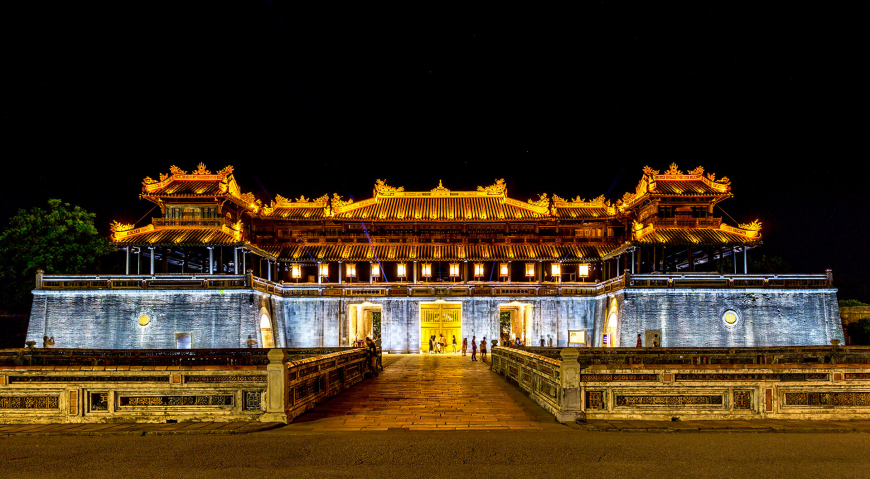 The ruins of the dynasty feel empty of the present tense - it's clear that these are a legacy of history, both great and gone. But the pagodas and temples in Hue are where spiritual exploration still lives and lingers. At dawn, Buddhist monks chant to begin the day. For a sweet and silent afternoon, stroll through one of these sites of worship at midday. Perhaps some of the bonsai trees which have been cultivated, trained, and beloved over generations can bring mindfulness to a relationship - a blessed reminder to stay present and allow time to take its beautiful course through history.