Airports are often the first point of entry for travellers to Vietnam. Whether you are aiming for a smooth arrival in the country or want to prepare for a domestic flight, you can breeze through the process by reading up on this complete guide to Vietnam's airports.
---
A brief overview of Vietnam's airports
Most international flights come in through one of Vietnam's three main airports in Hanoi, Da Nang or Ho Chi Minh City. There are also direct international flights to major tourism hubs such as Nha Trang and Phu Quoc. No matter which airport you land in, you will need a visa or be eligible for a visa exemption to enter the country. You can find out more about Vietnam's visa exemptions and requirements here.
Within Vietnam, flying is usually the most convenient way to reach distant destinations. Flights are normally affordable but you should expect prices to go up around public holidays. Domestic carriers are Vietnam Airlines, Vietjet Air, Bamboo Airways and Jetstar. For more about getting around within Vietnam, read this story.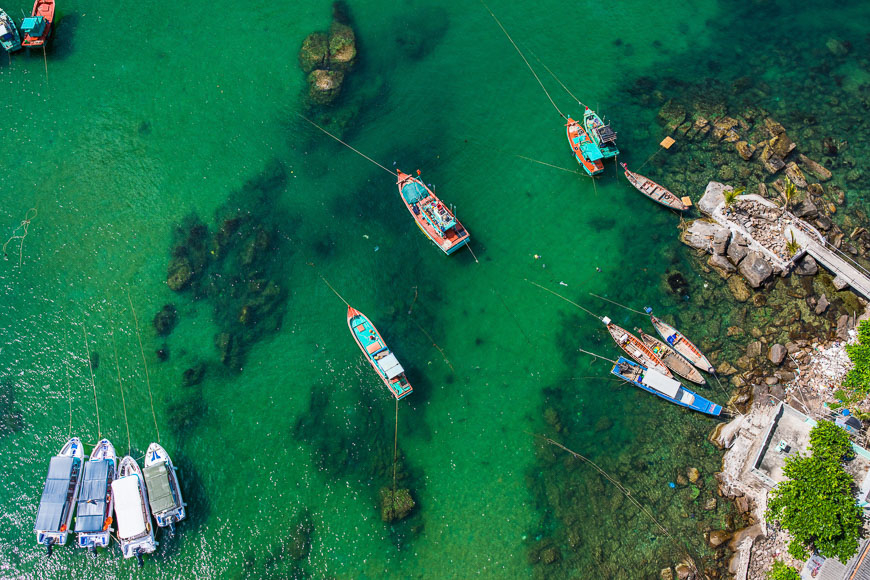 Points to note
Taxis: Mai Linh and Vinasun are two trusted taxi companies within Vietnam. You can ask or look for their representatives at the airport taxi bays on arrival.

Facilities: All international airports in Vietnam have free WiFi, water drinking stations, currency exchange centres, duty-free shops, and smoking lounges for passengers.

Dining: Vietnam's airports tend toward chain restaurants. Burger King, Highlands Coffee, Big Bowl and Star Cafe appear in almost every terminal.

ATMs: ATMs can be found just outside the entrances of Vietnam's airports. Most local ATMs dispense sums of 2,000,000 VND to 5,000,000 VND per transaction.

Luggage stubs: Be sure to keep your luggage stubs when taking domestic flights in Vietnam. These will be checked by airport personnel before you leave the terminal.
---
Guide to Hanoi's International Airport
Terminals
Hanoi's Noi Bai International Airport (HAN) has two airport terminals: T1 for domestic flights and T2 for international flights. The terminals are 850m apart. A free shuttle bus runs every 10 - 15 mins from 6am to 1am between the 1st floor of T2 on western side, and the 2nd floor of T1 (departures.) The check-in counters at in the domestic terminal are divided into three lobbies: A, B, and E (for Vietjet flights.) All boarding gates are accessible once you're through the security checkpoint, no matter which lobby you enter from.
The international terminal is a newer construction. There is an ATM within the immigrations area for those who need to pay visa fees in Vietnamese Dong. The terminal also has a left luggage or locker room, and duty-free stalls.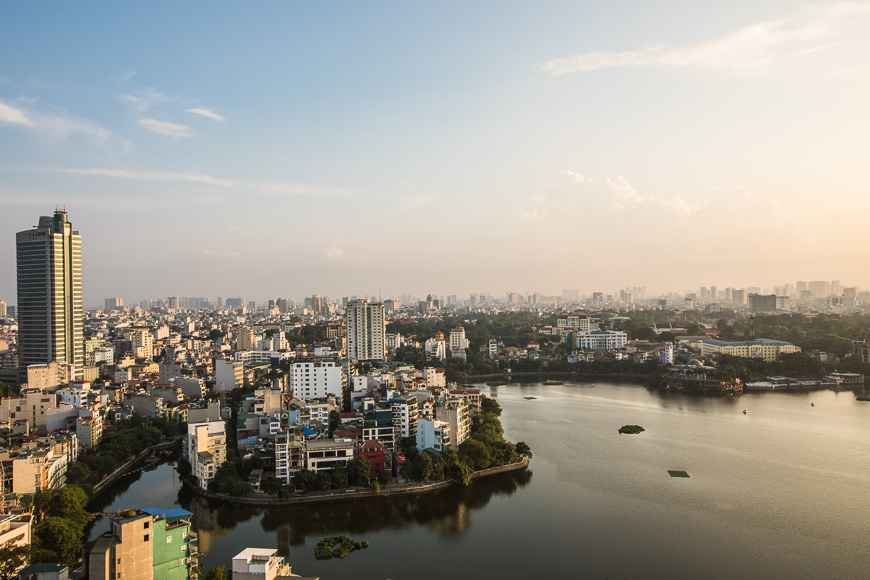 Transport
Noi Bai Airport is about 27 kilometres from downtown Hanoi. It usually takes about an hour to reach the airport from the city centre.
Taxis: Metered taxis to and from the airport cost about 300,000 VND to 400,000 VND. Your driver may request an additional 15,000 VND for the airport toll fee.

Ride-hailing apps: Apps such as Grab, Be, and Go Viet are a great option for those who have Vietnamese SIM cards. The ride typically costs about 250,000 VND with GrabCar.

Minivans: From 4am to 9pm, VietJet Air and Vietnam Airlines run mini-vans from the airport to downtown Hanoi and vice versa. You'll see these shuttles when you exit Arrivals. The route ends at 1 Quang Trung in the Old Quarter. Tickets cost 40,000VND.

Buses: From 6:30am to 11pm, the bright orange 86 Express Bus runs from the airport through central Hanoi and ends at the train station. Tickets are 30,000 VND.
Hanoi Airport Official Website
---
Guide to Da Nang's International Airport
Terminals
Da Nang International Airport (DAD) has two terminals: T1 for domestic flights and T2 for international flights. Both terminals are in easy walking distance of each other via a covered walkway. The Da Nang airport is modern and rarely overcrowded. The arrivals hall in the domestic terminal has lounges from major resorts, as well as shops and ATMs just outside the exit. The international arrival visa desk is less busy than those in Hanoi and Ho Chi Minh City, but there is no ATM in the immigration area so be prepared to pay fees with USD or VND.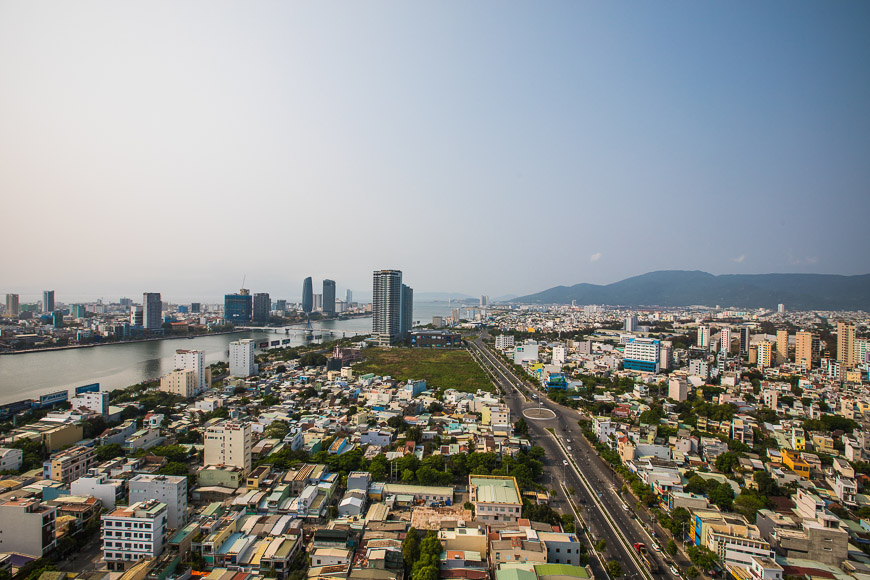 Transport
The airport in Da Nang is about five kilometres from the city centre, 29 kilometres from the Hoi An Ancient Town, and 98 kilometres from Hue. Allocate 30 minutes to reach the airport from the beach area in Da Nang.
Hired car: If you're going to Hoi An, your hotel can arrange a car for a fixed price between 250,000 to 350,000 VND.

Taxis: Taxis to downtown Da Nang cost between 70,000 VND to 120,000 VND. A metered taxi to Hoi An will cost upwards of 450,000 VND.

Ride-hailing apps: Grab and Go Viet are available in Da Nang and work well for short distances and motorcycle transfers. You'll need a Vietnamese SIM card to use these services.

Shuttles: Affordable shuttle vans run hourly from 5am to 11pm from the airport to Da Nang City and Hoi An. Look for the Hoi An Express shuttle at gate A4 in the domestic arrivals area.
Da Nang Airport Official Website
---
Guide to Ho Chi Minh City's International Airport
Terminals
Ho Chi Minh City's Tan Son Nhat International Airport (SGN) has two terminals (T1 domestic, T2 international) connected by a 500m covered walkway. The domestic terminal has two separate lobbies for boarding, one for Vietjet flights only. The line-up for the security check in Ho Chi Minh City can get clogged, so be sure to set aside enough time to reach your gate. Just outside the domestic terminal you'll find a retail area with Starbucks and McDonalds. The international airport is a modern building with duty-free shops, airline lounges and restaurants in the departure lobbies.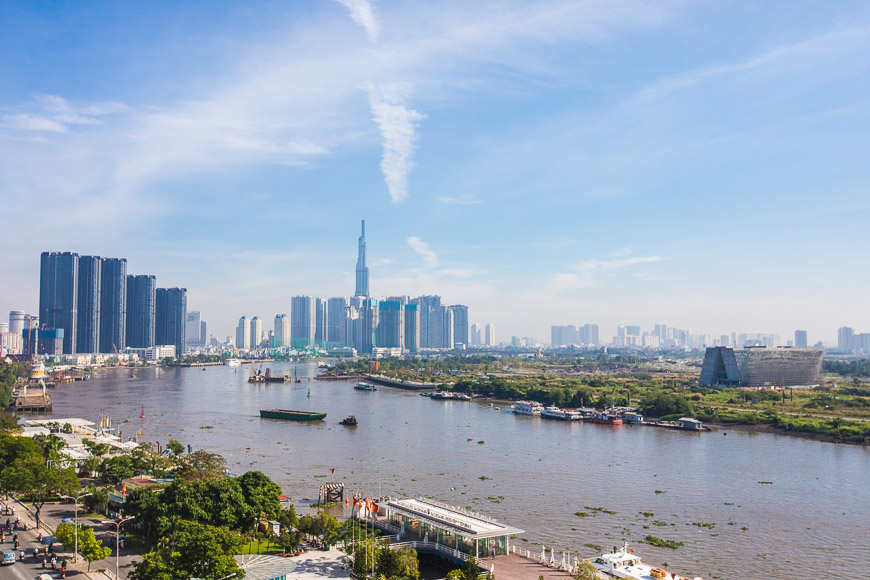 Transport
The airport in Ho Chi Minh City is eight kilometres from the city centre. It can take 50 minutes or more to reach the airport depending on traffic.
Hired car: The Song Viet Car desk at the airport can arrange a car on the spot or in advance for a fixed price, from 180,000 VND.

Taxis: Vinasun and Mai Linh taxis are available at the taxi bay. Expect to pay 120,000 VND to 180,000 VND for a ride into town, plus 10,000 VND for the airport toll fee.

Ride hailing apps: Grab, Be and Go Viet all work well in HCMC. Be sure to have a Vietnamese SIM card ready if you want to use these apps.

Buses: Two bright yellow buses run between the city center and the airport. These have plenty of room for luggage and the staff speak enough English to help travellers. For 20,000VND you can ride one of the two routes into town. Route 109 ends in the backpacker district and Route 49 ends at Ben Thanh Station. The first and last buses run at 5am to 2:30am. Tickets cost between 20,000 VND to 40,000 VND.
Ho Chi Minh City Airport Official Website
---
Want more Vietnam travel ideas? Sign up for our newsletter to receive our best stories in your inbox.