Vegetarians have a lot to look forward to in Vietnam. Vietnamese kitchens are known not only for balanced, flavourful, healthy cooking, but for their liberal use of fresh vegetables and herbs in every meal. Throughout the country, it's easy to find vegetarian restaurants and meat-free versions of mouthwatering local dishes. Prepare for beautiful meals on your trip with this easy guide to vegetarian food in Vietnam.
---
What to expect
Vietnamese cuisine varies from north to south, and each city has a dish it does exceptionally well. Still, everywhere you go, some things remain popular: steaming, aromatic noodle soups, crunchy banh mi sandwiches, delicious rice paper rolls made with herbs, pickled vegetables and lettuce, and robust Vietnamese coffee. These Vietnamese staples can be enjoyed across the country, and vegetarian versions are plentiful.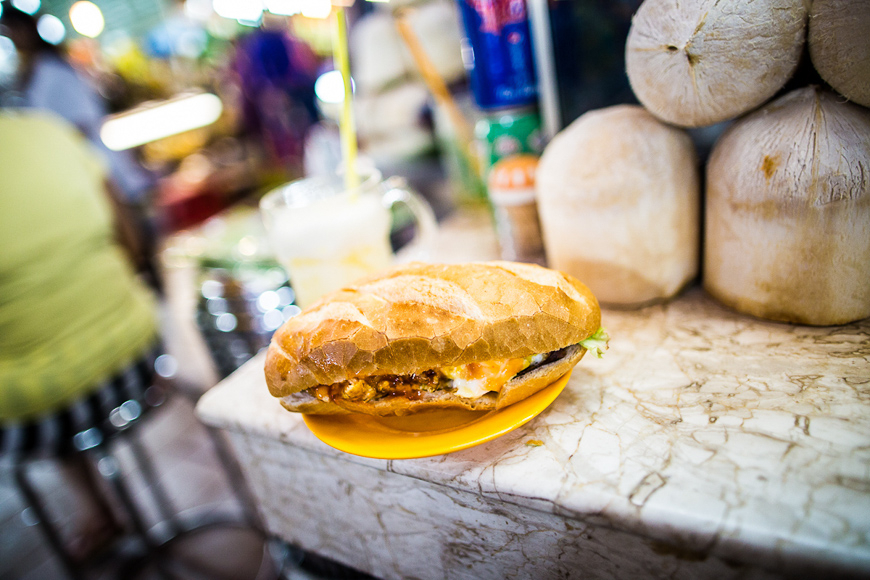 Most Vietnamese restaurants offer a selection of salads and cooked vegetables, and many have a dedicated section for vegetarian options. A vegetarian breakfast might consist of a banh mi with egg, or a bowl of mushroom congee. Lunch could be a banana heart or lotus stem salad with rice crackers, or a bowl of rice noodles served with hearty broth and fresh greens. Dinners are a great time to mix and match, with garlicky water spinach, fresh spring rolls, grilled eggplants, tofu in lemongrass and chili, caramelised mushrooms in claypots, five-colour fried rice, and Vietnamese che for dessert.
There's really no danger of going hungry as a vegetarian in Vietnam. If anything, you might find it hard to leave!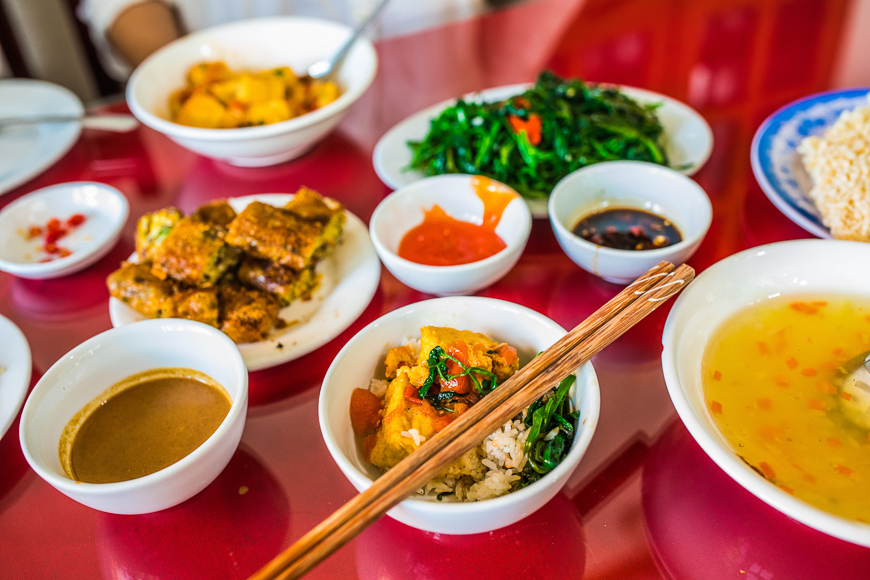 ---
Where to look
Even though most of the population are adventurous meat-eaters, Vietnamese tend to view vegetarianism positively. A quick online search will show you established vegetarian restaurants in your location, however you might like to wander near the pagodas and temples to find lesser-known eateries that serve delicious vegetarian meals to monks and nuns. Look for the words 'quán chay' or 'cơm chay' to locate a vegetarian place to eat, or to find veggie options on a regular menu.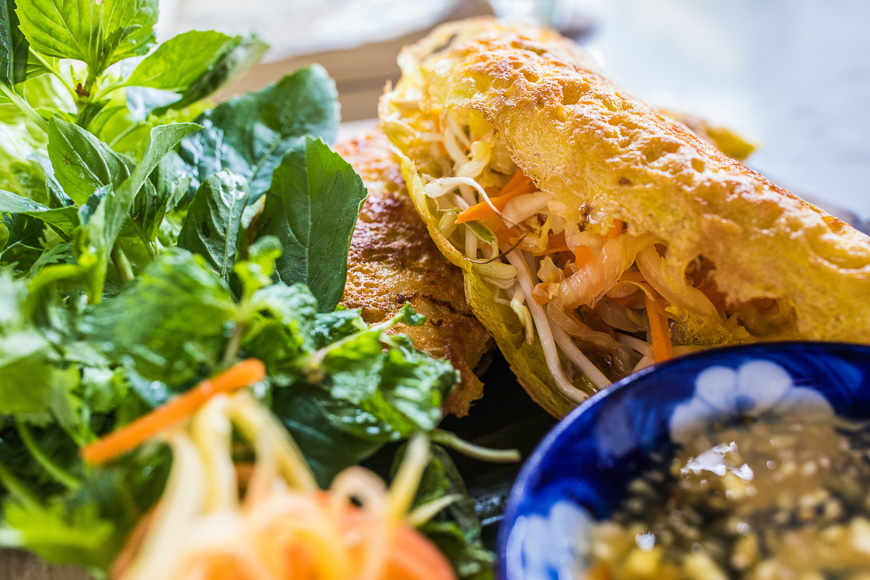 Vietnamese Buddhists eat meat-free food on the 1st and 15th of each month, and during these days you can find extensive vegetarian options in restaurants, and many vegetarian dishes sold in the morning markets. Many travellers come to love Vietnamese vegetarian buffets, which offer a wide array of novel dishes for a just a dollar or two.
---
What to order
A few key words will help you find more vegetarian options to eat in Vietnam. 'Chay' (pronounced 'chai') is the magic word. Say, "Tôi ăn chay" to let someone know you're vegetarian, or "không thịt" to ask for no meat in your food. "Không nước mắm" — no fish sauce — is also an important phrase to use when placing orders. You can add the word 'chay' to request meat-free versions of regular dishes. Like this:
Phở chay = vegetarian pho
Bánh mì chay = vegetarian baguettes
Gỏi cuốn chay = fresh vegetarian spring rolls
Mì xào chay = stir-fried vegetarian noodles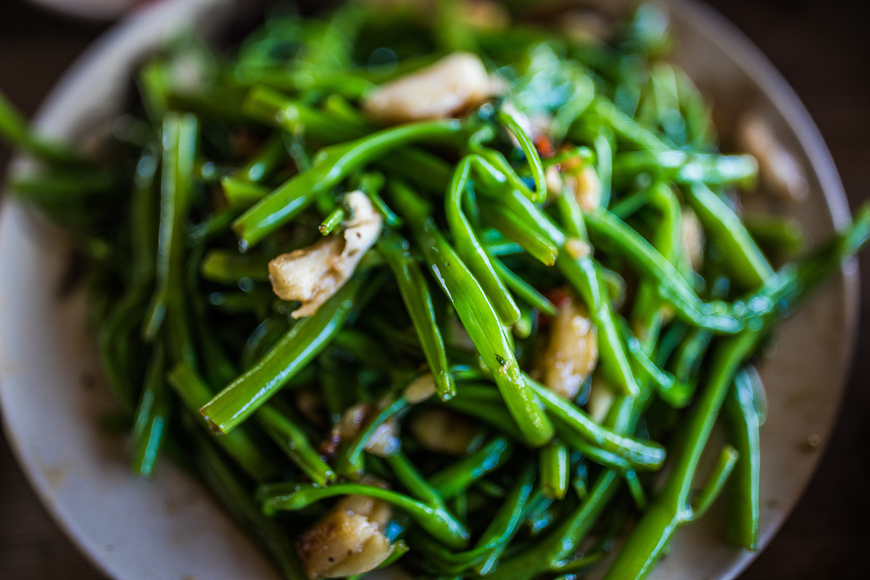 There are some dishes no vegetarian should miss when in Vietnam. Here are a few:
Nộm hoa chuối: banana flower salad with lime
Đậu sốt cà chua: braised tofu in tomato sauce
Rau muống xào tỏi: stir-fried morning glory with garlic
Bánh xèo chay: savoury rice pancakes with bean sprouts, and mushrooms
Cao lầu chay: Hoi An noodles in soy dressing with greens
Đậu hũ chiên sả ớt: Tofu fried with shredded lemongrass and chili
Cà tím mỡ hành: Eggplant simmered with green onion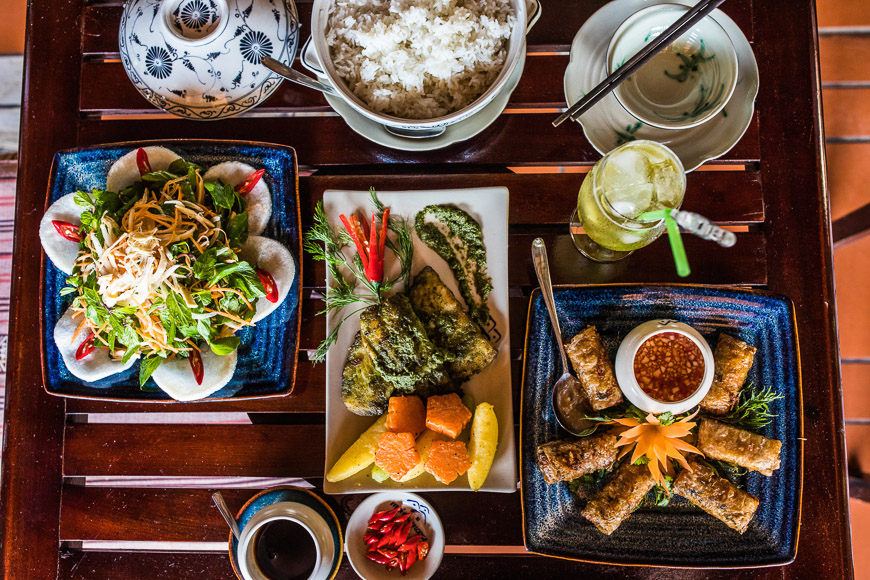 ---
Best vegetarian restaurants in Vietnam
There are countless excellent vegetarian restaurants in every major Vietnamese destination. In Hanoi, be sure to stop by for an elegant meal at Uu Dam Chay, and a quiet one at Aummee. In Hoi An, Karma Waters will feed you well, as will the chefs at Am Vegetarian and Annen Hoi An restaurant. In Hue, don't miss Organic An Lac, and the fig salad at Spice Viet. In Ho Chi Minh City, you can't go wrong at Hum Restaurant, or with the amazing menu at Pi Bistro.
---
Want more Vietnam travel ideas? Sign up for our newsletter to receive our best stories in your inbox.