When Hoi An was named 'Asia's Leading Cultural City Destination 2022' at the 29th World Travel Awards (Asia & Oceania) in September, it was no surprise. The charming yellow town, with its rich history and varied tourism offerings, beat nominees including Seoul (South Korea) and Kyoto (Japan) to take the title − for the third time.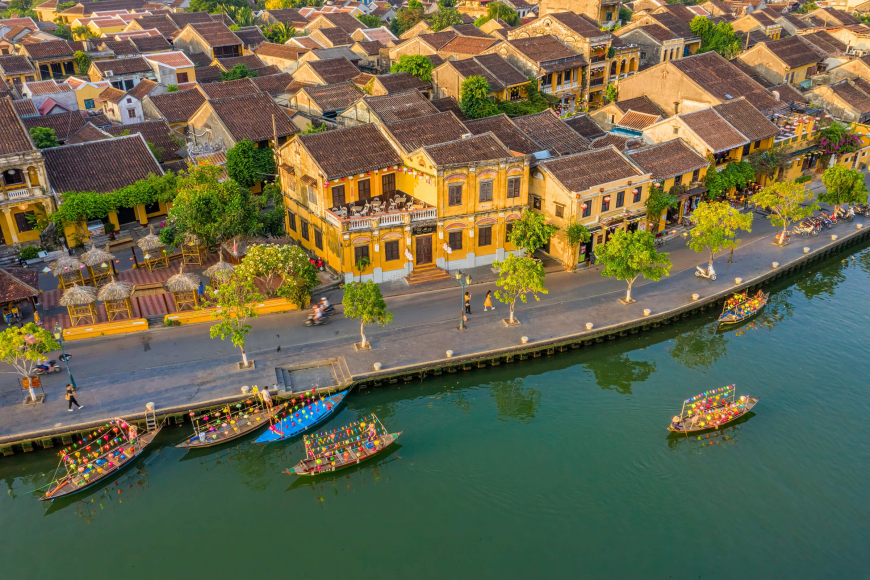 The UNESCO World Heritage site was a trading port as far back as the second century A.D., and it drew together traders from across the world during its 16th century heyday. It was a meeting place where indigenous cultures mixed with cultural influences from Europe, China and Japan, among others.
While today's travellers visit Hoi An for many reasons – such as its poetic scenic, beaches, and proximity to other destinations – it's this cultural value that makes the greatest impression. From ancient My Son Sanctuary ruins and fascinating museums to stunning live performances and authentic excursions, Hoi An is an experience no culture-lover should miss.
Here are seven top things to do…
---
ADMIRE THE LANTERNS
Aside from its yellow buildings, Hoi An is known for the colourful lanterns that festoon its cobbled streets and the boats that bob along the Thu Bon River. Lanterns have been made in Hoi An for over 400 years, and are exported as a unique cultural product. Take stunning snaps of these multi-hued beauties, and buy (or make) one to take home. There are many workshops for you to craft your own keepsake, in the shape and silk of your choice.
On the 14th day of each lunar month, people place candle-lit lanterns onto the river as a spiritual offering. It's stunning to watch.
SAMPLE TRADITIONAL SOUNDS
Another UNESCO Intangible Cultural Heritage of Humanity is bai choi, a folk singing genre that plays out like a game. It's often performed at farming festivals in Quang Nam Province, and has been since it was developed by Vietnamese poet Đào Duy Từ (1572–1634). It's said that bai choi work songs allowed farmers to communicate between watchtowers guarding rice fields. During festivals, bamboo stilts were set up to represent these towers, in an intricate entertainment game that involves cards, flags, music, poems, and improvisation. This is overseen by a character known as "Mr. Hieu", the master of ceremonies who deals the cards − a special deck featuring stunning wood print motifs. There's banter and call-and-response, making for a playful experience resembling bingo.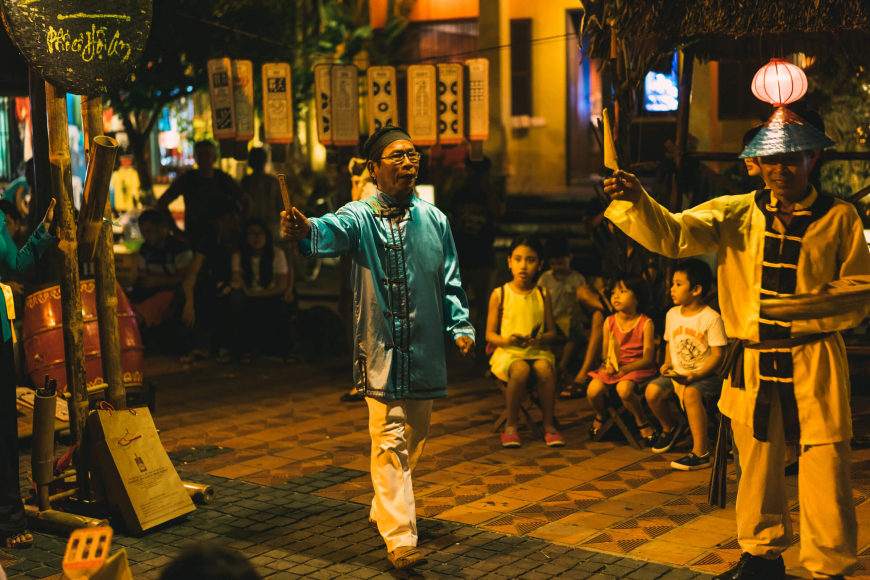 MARVEL AT ANCIENT ARCHITECTURE
Appreciate architectural history? Tour the sites. These include Tan Ky House, a over 200-year-old former merchant's house integrating various architectural styles (built around 1741); the exquisite Fujian Assembly Hall, built around 1690; and the Japanese Covered Bridge Pagoda, built in the 1590s.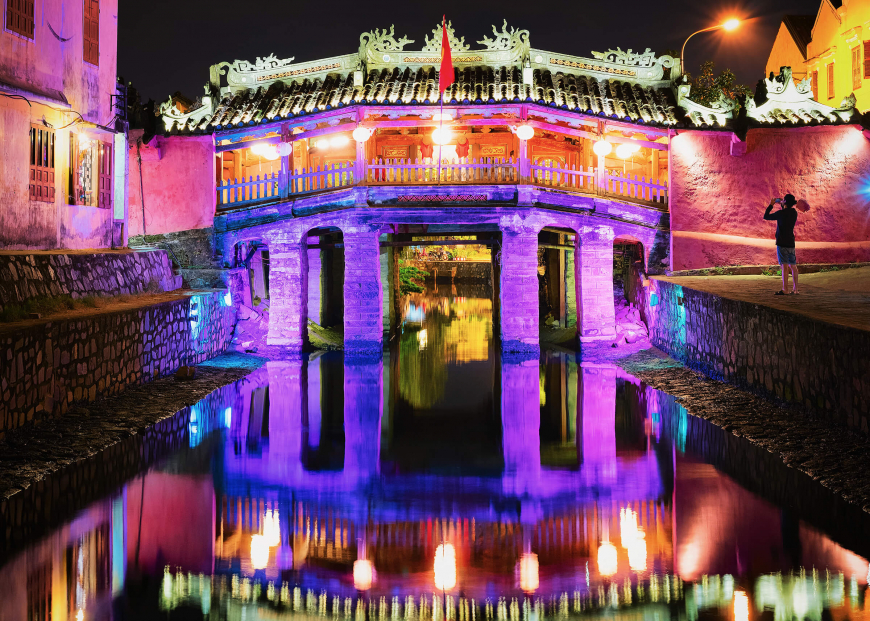 To escape the heat, step into a cool museum. There are about 6 museums in Hoi An which display countless of artifacts, telling fascinating history of Hoi An. At the Museum of Folklore in Hoi An, admire folk art and learn about traditional village life. Performances include thien cau folk dancing and ba dao songs, which rowing fishermen would sing during special ceremonies.
For a morning or afternoon out, the hour's drive to the My Son Sanctuary is worth it. This mysterious collection of red-brick temples and towers was developed by the Champa people from the 4th century to the 13th century. Your guide will inform you of the ceremonies that once occurred in this sacred valley.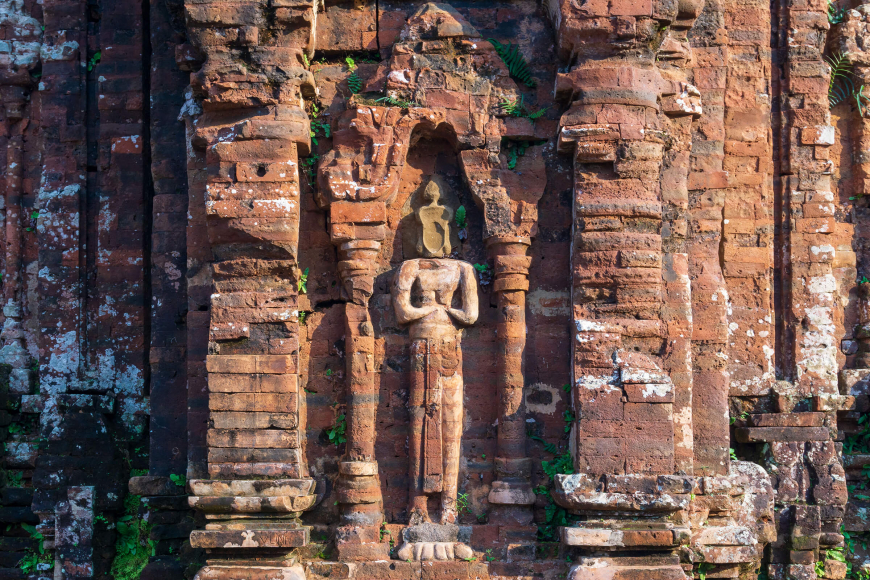 EXPLORE ARTS AND CRAFTS
If you're a hobby enthusiast, you'll be spoilt for choice. First off, this picture-perfect town lends itself to photography tours. Then there's its long tailoring history that goes back to the old days of bustling trading port. Visit the serene Hoi An Silk Village to learn more about ancient silk-weaving.
There are many craft villages surrounding Hoi An, where you can learn about handicrafts such as carpentry, bronze-casting, bamboo building, weaving and pottery. In 16th century, potters arrived here from the North. At the centuries-old Thanh Ha Pottery Village, you'll see pottery-making techniques that were passed down the generations.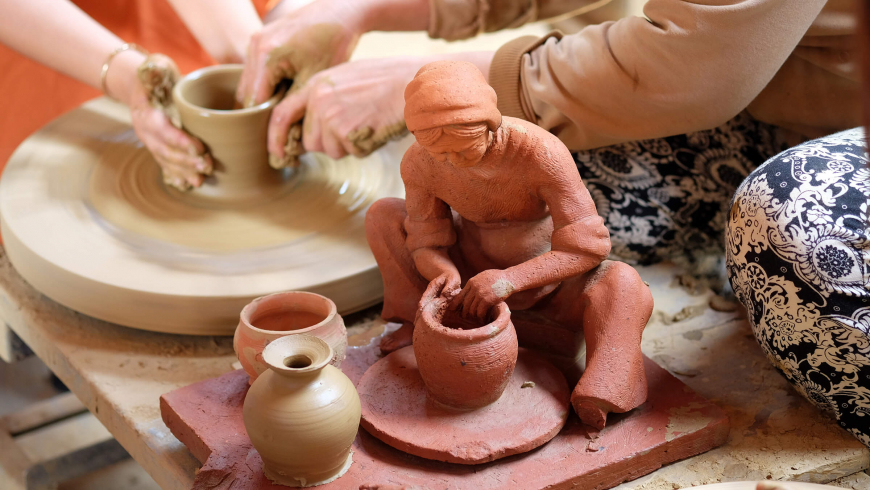 CRUISE THE RIVER
As Hoi An is a river town, you should explore its scenic surrounds on a boat tour. Typically, these are done in the round basket coracle coats. You could go to the Bay Mau Coconut Forest, the Tra Nhieu Nepa Palm Forest or the Cam Thanh Eco-village. En route, you'll stop at villages to learn about fishing, cooking and other traditional crafts.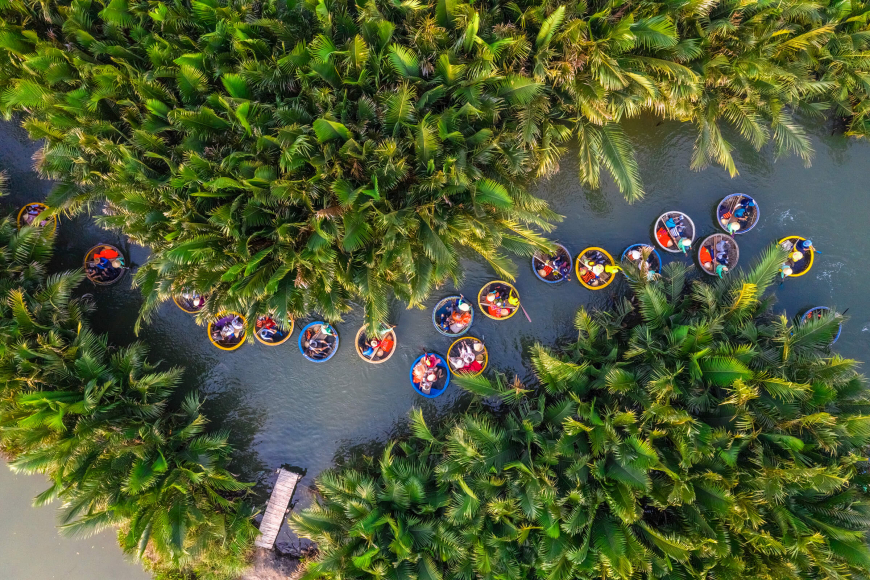 WATCH A SHOW
Keen to catch a show? You have several options.
The Hoi An Lune Center For the Performing Arts – a massive bamboo dome structure – is home to the world-renowned Vietnamese Bamboo Circus. Their performance tells the story of Vietnam in a vibrant, high energy song-and-dance show that incorporates bamboo props.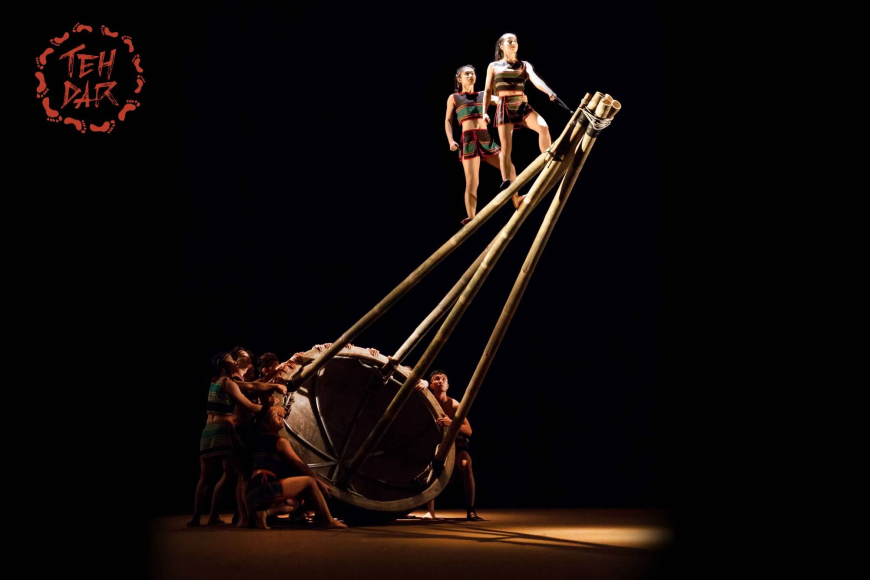 Source: Lune Production
At the Hoi An Traditional Art Performance House, listen to provincial folk songs played on ethnic instruments, as well as folk songs that honour the 12 countries that have diplomatic relations with Hoi An.
Something spectacular for the whole family is 'Hoi An Memories', at the Hoi An Memories Land cultural theme park. Held at an outside arena, it's an extravaganza featuring hundreds of performers, impressive lights and visuals to tell an emotional story of Hoi An's history.
SAVOUR THE TOWN'S TASTES
Food is an integral part of a place's culture. When in Hoi An, take walking food tours to sample regional specialities such as Cao Lau noodles. See how these noodles, as well as fish sauce, coffee, rice paper and rice wine are made. For foodies, there are cooking classes aplenty. Outside of the town, you can visit rice farms, fishing villages and the Tra Que organic vegetable village.